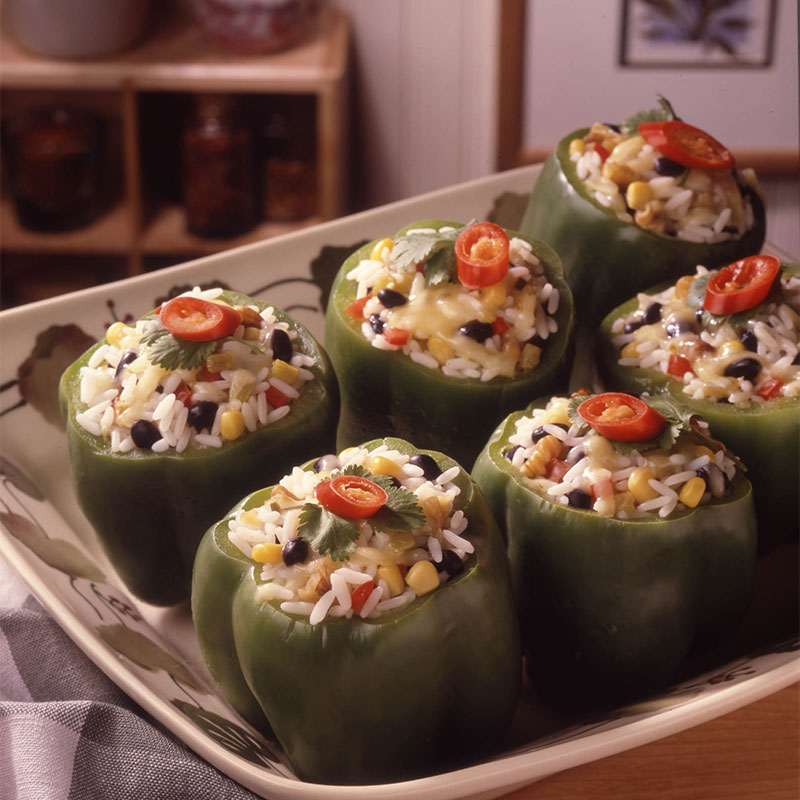 Smoked Corn Stuffed Pepper
Ingredients
8 large green peppers

1¼ teaspoons salt, divided

1 teaspoon ground black pepper

3 cups cooked rice

1 (15-ounce) can black beans, drained and rinsed

1 (11-ounce) can mexican-style corn, drained

1 medium onion, chopped

1 cup walnuts, chopped

1 (4-ounce) can chopped green chilies

½ teaspoon liquid smoke

½ teaspoon ground cumin

½ cup monterey jack cheese with jalapeno peppers, shredded (optional)

jalapeno pepper slices, for garnish
Directions
Pre-heat oven to 350 degrees.

Cut a thin slice from stem end of each pepper; remove seeds and membranes; rinse. Cook peppers 5 minutes in enough boiling water to cover; drain. Season inside of peppers with 1 teaspoon salt and black pepper; set aside.

Combine rice, beans, corn, onion, walnuts, chilies, liquid smoke, cumin and remaining ¼ teaspoon salt.

Spoon 1 cup rice mixture into each pepper; stand upright in 13x9-inch baking pan. Cover pan with foil; bake for 20 minutes. Remove cover, sprinkle peppers with cheese. Cook an additional 5 minutes or until cheese is melted.

Garnish with jalapeno pepper slices.
Nutrition Facts
Calories

282

Total Fat

10g

Sodium

581mg

Carbohydrates

41g

Dietary Fiber

5g

Protein

9g