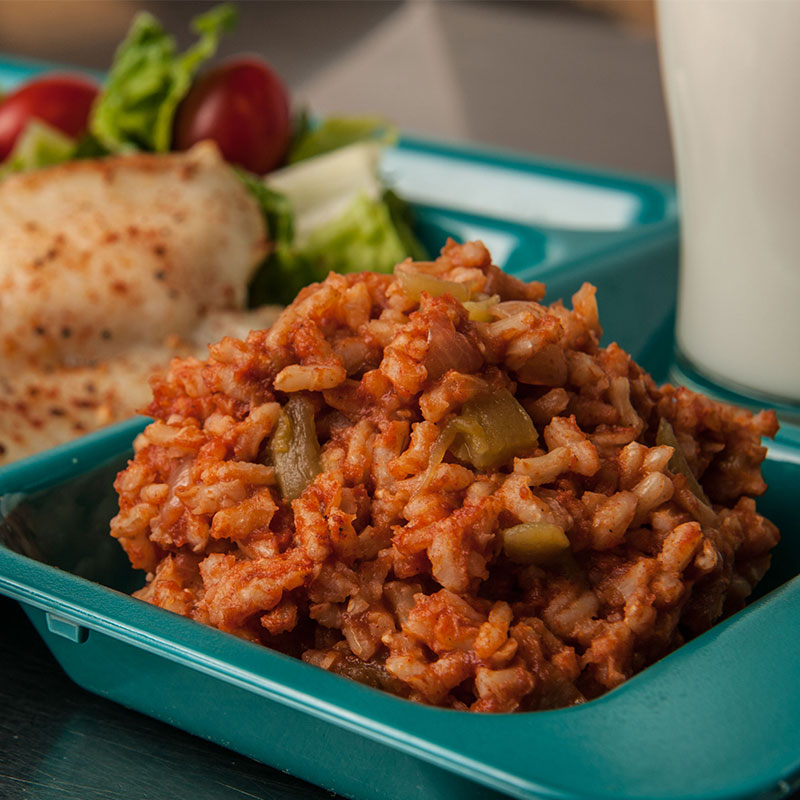 Spanish Brown Rice
Recipe developed for USA Rice by Chef Cyndie Story, PhD, RD, CC. Click on the PDF below for complete nutritional information and recipe information for 50 & 100 servings.
Servings

50

Serving Size

½ cup
Ingredients
2 cups Onions, fresh, diced

2 teaspoons Vegetable oil

2 quarts Tomato sauce

1 gallon Water

3 pounds, 12 ounces Brown rice, parboiled, uncooked

2 tablespoons Garlic powder

2 tablespoons Cumin

2 tablespoons Paprika

2 teaspoons Salt

¼ cup Hot sauce, prepared

½ cup Green chilies, canned, drained
Directions
Lightly coat 2 full size 2-inch steam table pan with food release spray.

Sauté onions in vegetable oil until softened.

Pour 1 quart tomato sauce and 2 quarts water into each pan. Whisk together.

Add 1 pound 14 ounces of uncooked brown rice to each pan.

Combine garlic powder, cumin, paprika, and salt. Add 1 tablespoon and 1 teaspoon of spice mixture to each pan.

Add 2 tablespoons of hot sauce, 1 cup of cooked onions, and ¼ cup green chilies to each pan. Whisk together to combine.

Steam for approximately 25 minutes, or until the rice is al dente.
*Critical Control Point: Heat to 165°F or higher for at least 15 seconds.

Fluff with utensil and cover with plastic wrap.

Serve ½ cup using a No. 8 scoop.
*Critical Control Point: Hold for service at 135°F or higher.
Nutrition Facts
Serving

½ cup

Calories

287

Total Fat

3g

Saturated Fat

0g

Sodium

182 mg

Carbohydrates

59g

Dietary Fiber

4g

Protein

7g