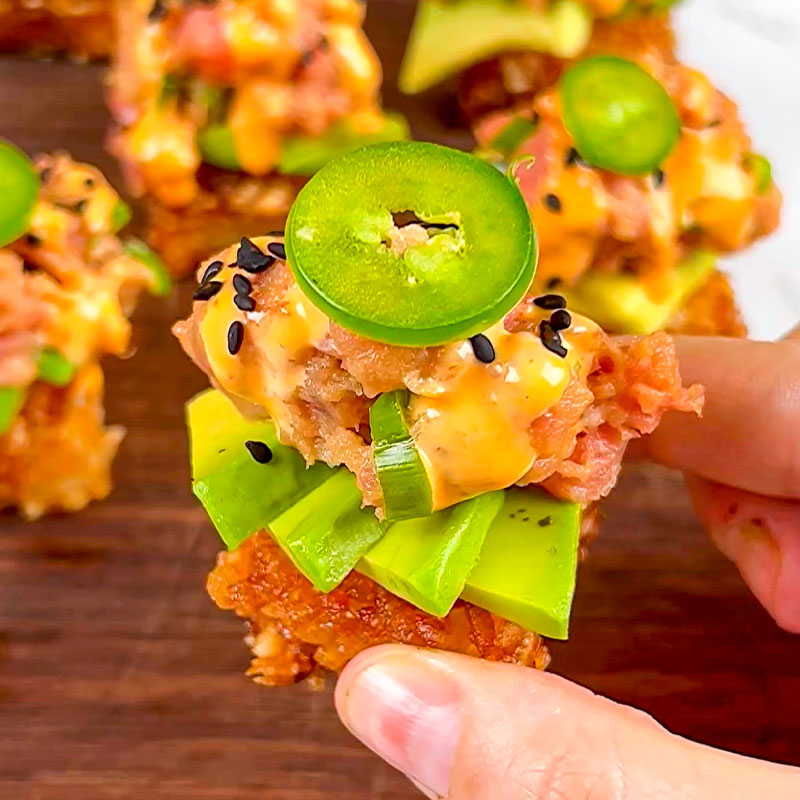 Spicy Tuna Crispy Rice
Our delicious Spicy Tuna Crispy Rice recipe checks all the boxes! Each bite of these little fried rice squares brings together the perfect combination of flavor, texture, and umami.

This dish stars U.S.-grown short grain rice and comes to us from our friend Alexa of @alexawhatsfordinner in partnership with USA Rice and TheFeedfeed.
Servings

4-6

Prep Time

3 hr

Cook Time

30 min

Total Time

3 hr 30 min
Ingredients
Rice

1½ cups sushi rice, rinsed until water runs clear

2 tablespoons rice wine vinegar

1 tablespoon granulated sugar

1 teaspoon sesame oil

1 teaspoon salt
¼ cup canola or vegetable oil, for frying
Spicy Tuna

½ pound fresh, sushi/sashimi grade tuna, finely diced

2 tablespoons Kewpie mayonnaise

1 tablespoon sriracha

1 tablespoon soy sauce

1 teaspoon sesame oil

1 lime, juiced
2 tablespoons thinly sliced scallions
Toppings

1 tablespoon Kewpie mayonnaise

1 tablespoon sriracha

1 avocado, sliced

1 jalapeño, cut into small slices

toasted sesame seeds, for garnish
Directions
Rice

Cook the rice: Combine rice and 2 cups water in a medium saucepan over medium-high heat, and bring to a soft boil. Reduce the heat to low. Cover and simmer for 20 minutes, or until liquid is absorbed

Meanwhile, in a small bowl combine rice wine vinegar, granulated sugar, sesame oil, and salt. Microwave for about 30 seconds to help the rice dissolve, then mix together.

Once the rice is fully cooked, fluff it up with a fork. Add the vinegar mixture into the rice and stir to fully incorporate.

Line a medium-sized baking pan (around 8x8) with plastic wrap. Tightly pack the rice into the pan, and cover with more plastic wrap. Place the rice into the fridge for at least 3 hours to cool.

Once the rice is chilled and fully set, use a square or rectangular cookie cutter to cut out small pieces of rice.

Add canola or vegetable oil to a large pan over medium-high heat. Once the oil has reached 350°F, start frying the rice squares in small batches. Allow the bottom of each rice square to get nice and golden before carefully flipping and frying the other side. Once each rice square is golden on both sides, remove from oil and place on a paper towel to absorb any excess oil.
Spicy Tuna

Add the finely diced tuna, Kewpie mayonnaise, sriracha, soy sauce, lime juice, sesame oil, and scallions into a medium bowl and mix well.
Assembly

Make some extra spicy mayonnaise: mix Kewpie mayonnaise and sriracha together in a small bowl.

Place a small layer of sliced avocado on top of the crispy rice squares.

Scoop the spicy tuna mixture into small portions, about a tablespoon each, and place on top of the crispy rice squares.

Drizzle spicy mayonnaise on top of each spicy tuna/crispy rice bite. Top each bite with a small slice of fresh jalapeño and a sprinkle of toasted sesame seeds. Enjoy!