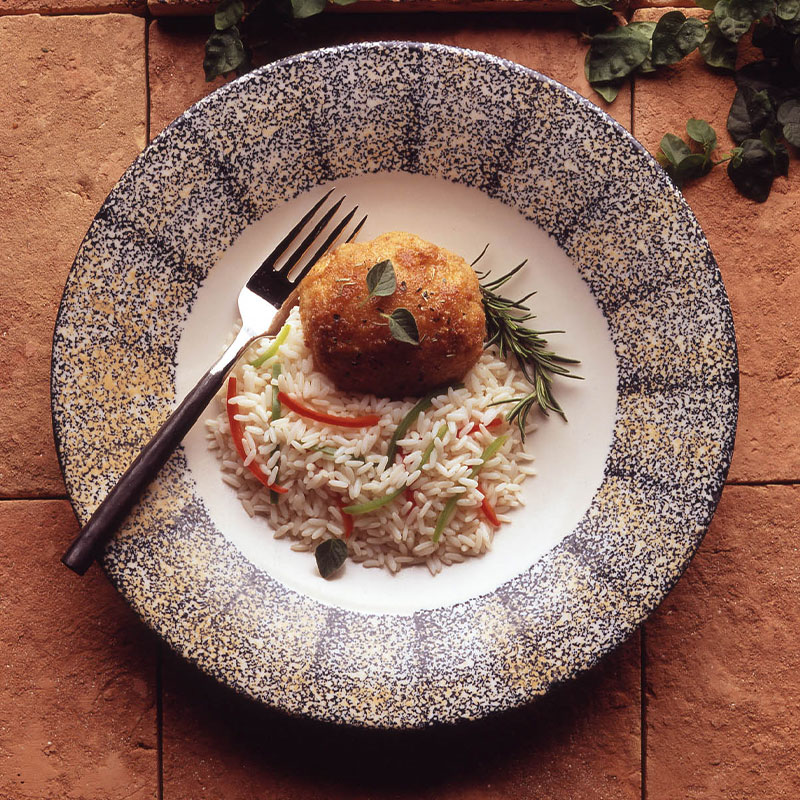 Stuffed Chicken Breasts with Herbed Butter Sauce
Ingredients
8 (about 3 pounds) boneless, skinless chicken breast halves

½ teaspoon salt

¼ teaspoon ground black pepper

½ cup butter, softened

2 tablespoons chopped fresh parsley

½ teaspoon ground oregano

½ teaspoon dried rosemary, crushed

½ teaspoon dried basil

4 ounces Swiss cheese, cut into 8 strips

¼ cup all-purpose flour

1 egg, beaten

⅔ cup dry breadcrumbs

½ cup dry white wine

1 teaspoon vegetable oil

½ cup red pepper, strips

½ cup green pepper, strips

4 cups cooked rice

1 tablespoon cornstarch

1 tablespoon cold water

fresh oregano and rosemary sprigs for garnish
Directions
Place chicken between plastic wrap; pound with meat mallet or rolling pin to ¼ inch thickness. Sprinkle chicken with salt and black pepper.

Combine butter, parsley, oregano, rosemary and basil in small bowl. Place 1½ teaspoons herb butter on centers of breast halves, reserving remaining herb butter.

Place one cheese strip in center of each breast half. Roll up chicken with cheese inside; tuck in ends. Roll in flour, then dip in egg. Coat with breadcrumbs. Place in ungreased 13x9-inch baking dish; bake at 375 degrees 15 minutes.

Stir wine into remaining herb butter in small saucepan; heat over low heat until butter melts. Pour over chicken; bake 20 minutes more.

Heat oil in large skillet over medium heat until hot. Add red and green bell peppers; cook and stir until crisp-tender. Add rice; toss lightly. Heat thoroughly. Serve chicken over rice.

Pour pan drippings into small saucepan. Dissolve cornstarch in water. Add to drippings; heat until mixture boils and thickens, stirring constantly. Serve with chicken and rice. Garnish with oregano and rosemary.

Nutrition Facts
Calories

477

Total Fat

20g

Cholesterol

140mg

Sodium

434mg

Carbohydrates

34g

Dietary Fiber

1g

Protein

35g