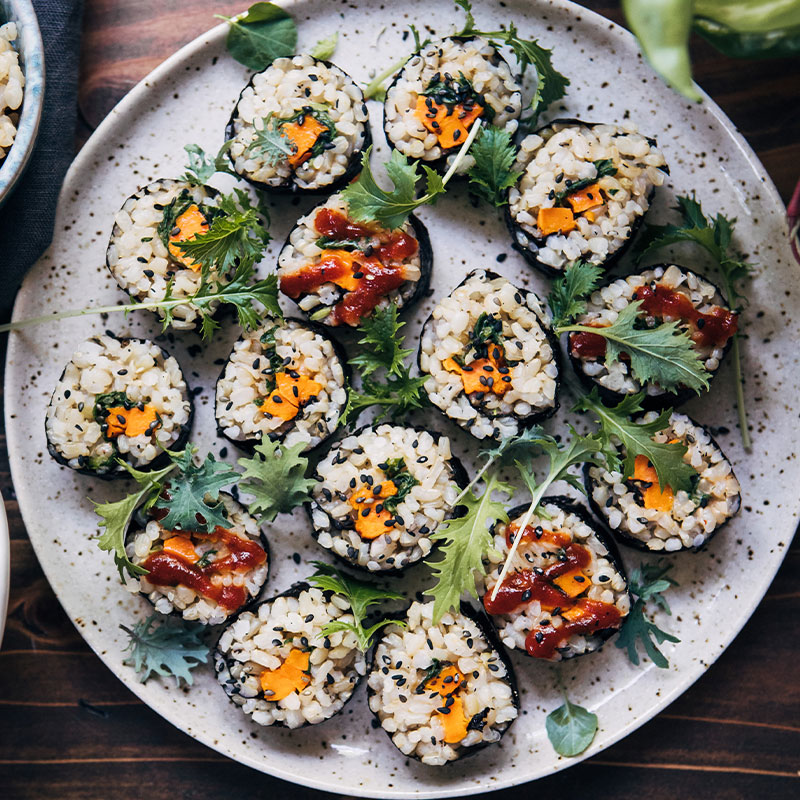 Sweet Potato Brown Rice Sushi
Move over takeout! This easy, vegan sushi is a breeze to make at home and can be customized to your liking.

This recipe comes to us from our friend Sarah Aldrich of @wellandfull in partnership with The FeedFeed and USA Rice.
Servings

4-5

Prep Time

15 min

Cook Time

1 hr

Total Time

1 hr 15 min
Ingredients
Sushi Rice

1½ cups short grain brown rice

3 cups water
pinch sea salt
Sweet Potatoes

medium sweet potato

avocado oil, drizzled

¼ teaspoon salt
black pepper
Spicy Kale

1½ cups baby or lacinato kale

1 tablespoon vegan mayo
½ tablespoon sriracha
Rest of the Roll

black/white sesame seeds

microgreens

4-5 nori sheets

Directions
Sushi Rice
Add the rice, salt, and water to a pot. Bring to a boil, then reduce to a simmer for about 45-50 minutes, or until the rice is tender. Let the rice cool before making the sushi rolls.
Sweet Potatoes

Preheat your oven to 425 degrees F.

While the rice is cooking, peel the sweet potato, then cut into fry-shaped pieces, about ¼ -½ inch in width and 3-4 inches in length.

Toss the sweet potato slices with a small drizzle of avocado oil, salt, and pepper.

On a baking sheet lined with parchment paper, bake your sweet potato in the oven for about 25 minutes, or until tender when pierced with a fork.
Spicy Kale

While the sweet potato is roasting and the rice is cooking, make the spicy kale.

Chop your kale into small pieces. In a bowl, toss with the vegan mayo and sriracha. Stir well until all kale is evenly coated.
Building the Rolls

Place your sheet of nori down on a cutting board, shiny side down. Add on about ¾ of a cup of the cooled brown rice on the middle part of the sheet. (See photos for reference).

Add on a layer of kale in the middle of the brown rice, then add on 6-7 pieces of the sweet potato.

Dip your finger in water, and wet the top edge of the nori sheet. This will help the nori stick together when you roll it.

Roll your sushi roll as tightly as you can. You can use a sushi mat if you'd like, but it can also be done without one!

When your sushi is rolled, let it rest for about 5-10 minutes so that the nori can stick together. Repeat the above steps until you are out of your ingredients. Note that you may have some rice left over.

Cut the sushi with a damp sharp knife into slices.

Garnish with sesame seeds and microgreens (if desired).