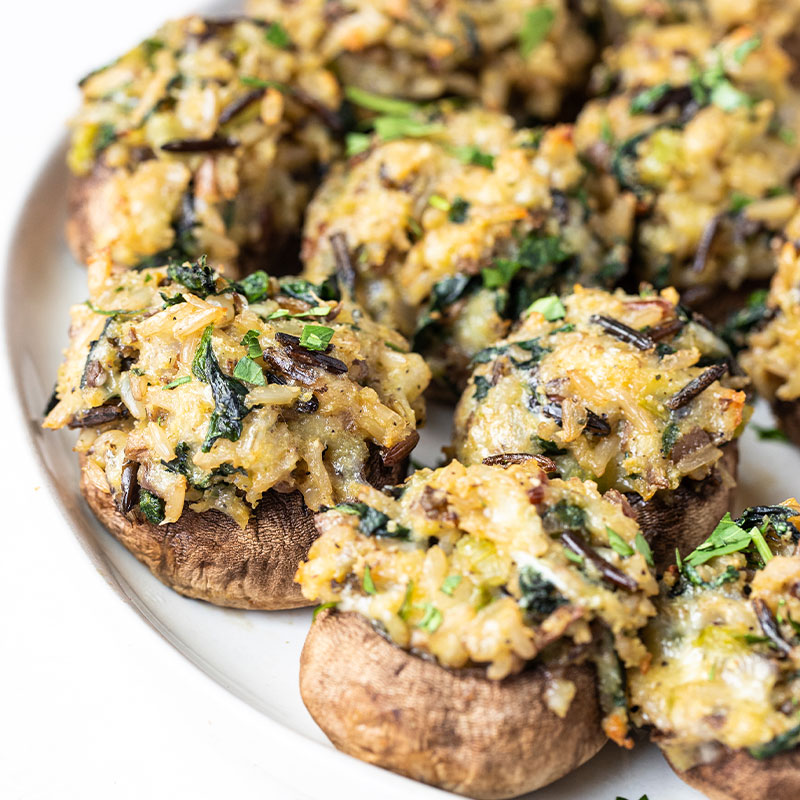 Vegetarian Stuffed Mushrooms with Wild Rice
These vegetarian stuffed mushrooms are easy to make and are the perfect bite-sized appetizer or simple side dish. This recipe features U.S.-grown Wild Rice and comes to us from our friend Tawnie of Kroll's Korner.
Servings

12

Serving Size

1 mushroom

Prep Time

10 min

Cook Time

25 min

Total Time

35 min
Ingredients
10-13 large white button mushrooms

1 teaspoon olive oil

1 stalk celery, finely diced

1 tablespoon shallot, finely chopped

1 teaspoon garlic, minced

½ teaspoon salt

¼ teaspoon pepper

2 cups fresh spinach, roughly chopped

1 cup cooked us-grown wild rice blend

2 tablespoons panko breadcrumbs or italian breadcrumbs

1 egg, lightly beaten

½ cup freshly shredded mozzarella cheese

½ cup freshly grated parmesan cheese

parsley, fresh (for garnish)
Directions
Heat the oven to 400°F.

Clean the mushrooms and remove the stems. Remove any of the excess dirt and gently pop out the stem using your fingers and reserve stems in a small bowl.

Roast the mushrooms: Place the mushrooms stem side up on a baking sheet and roast them for 10-12 minutes, or until mushroom caps fill with water. Carefully discard liquid in each mushroom and set aside while you prepare the filling.

Prep the vegetables: finely chop mushroom stems and chop other vegetables if not already prepped.

Cook the filling: In a medium sized skillet over medium-high heat, heat olive oil. Sauté the celery and shallot for about 3 minutes, stirring occasionally. Then add in the chopped mushroom stems, garlic, salt and pepper. Cook until the liquid evaporates. Lastly add in the chopped spinach and cook until spinach wilts. Remove from heat and place mixture in a large bowl.

Add in the cooked rice, cheese, breadcrumbs and egg. Stir to combine.

Stuffed the mushrooms: Divide the filling between the mushroom caps, be generous so you create a nice mound on top and gently press down to fill the cavity of the mushroom.

Bake the mushrooms on a baking sheet for 13-15 minutes or until the mushrooms are tender and the filling is hot.

Garnish with chopped parsley if desired. Serve right away and enjoy!
Recipe Notes
This amount of filling is good for 10-13 mushrooms depending on size. Double the filling for any amount of mushrooms you need to make.

Mushrooms are best served the day they are made. However, refrigerate leftovers in an air-tight container for up to 3 days.
Nutrition Facts
Serving

1 mushroom

Calories

101

Total Fat

3g

Saturated Fat

2g

Cholesterol

22mg

Sodium

215mg

Carbohydrates

13g

Dietary Fiber

1g

Sugar

1g

Protein

6g