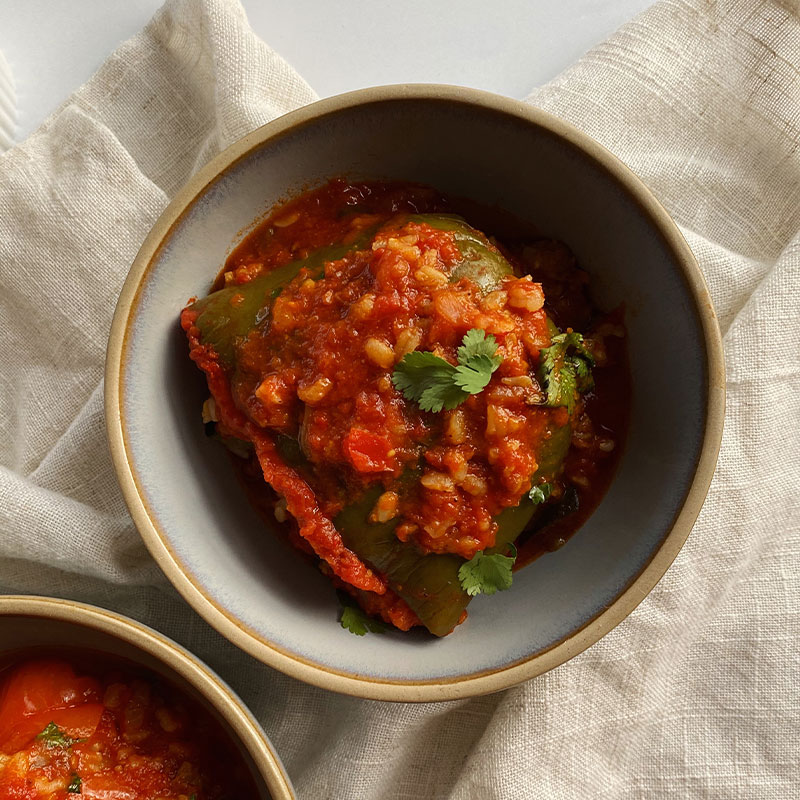 Vegetarian Stuffed Peppers
These delicious vegetarian stuffed peppers are packed with flavor and perfect for the cold weather. This gluten-free and vegan recipe is made with U.S.-grown brown long grain rice and comes to us from our friend Gal of @somethingnutritious.
Servings

6

Serving Size

1 pepper

Prep Time

20 min

Cook Time

40 min

Total Time

1 hr
Ingredients
¾ cup long grain brown rice

2 tablespoons olive oil

1 pound plant-based meat (or real meat)

6 medium sized bell peppers

1 large zucchini

1 small white onion

½ large red onion

2 tomatoes, chopped

1 teaspoon garlic powder

1 teaspoon paprika

1 teaspoon salt
1 teaspoon black pepper
Tomato Sauce

28 ounces crushed tomatoes

2 tablespoons olive oil

2-3 cups water

1½ teaspoons salt

1 teaspoon black pepper

1 teaspoon garlic powder

1 teaspoon paprika

pinch of cayenne pepper, optional
Directions
Slice off the top of your peppers and set the peppers aside. Chop up the tops of the peppers, zucchini and onions really fine.

Starting with the filling, toss the chopped veggies into a large pot with 2 tablespoons of oil with all the spices. Cook on a medium heat for about 5 minutes, stirring every minute. You want to make sure your pot is wide enough to fit the peppers, so you only need to dirty one dish.

Add in the rice and toss together for a minute or two.

Add in your plant-based ground meat and break it up to form crumbles. Cook over a medium heat until it starts to brown. Once the meat browns, turn the fire off and mix in the chopped tomatoes.

Fill each pepper 3/4 of the way with the filling, and set them aside before placing them back into the pot. If there is some rice leftover, you can leave it in the pot to cook in the sauce.

Add all of your sauce ingredients into the pot. Start with 2 cups of water.

Place the peppers back into the pot with the sauce. Cover the pot and cook on a low heat for about 40-50 minutes, until the rice is fluffy and the peppers are tender.

Check the peppers mid way to coat them in the sauce, and add more water if needed. You want them to be covered 3/4 of the way so that the rice cooks through.

Once cooked, top with fresh cilantro and enjoy!
Recipe Notes
Leftovers will last in the fridge for up to 1 week.