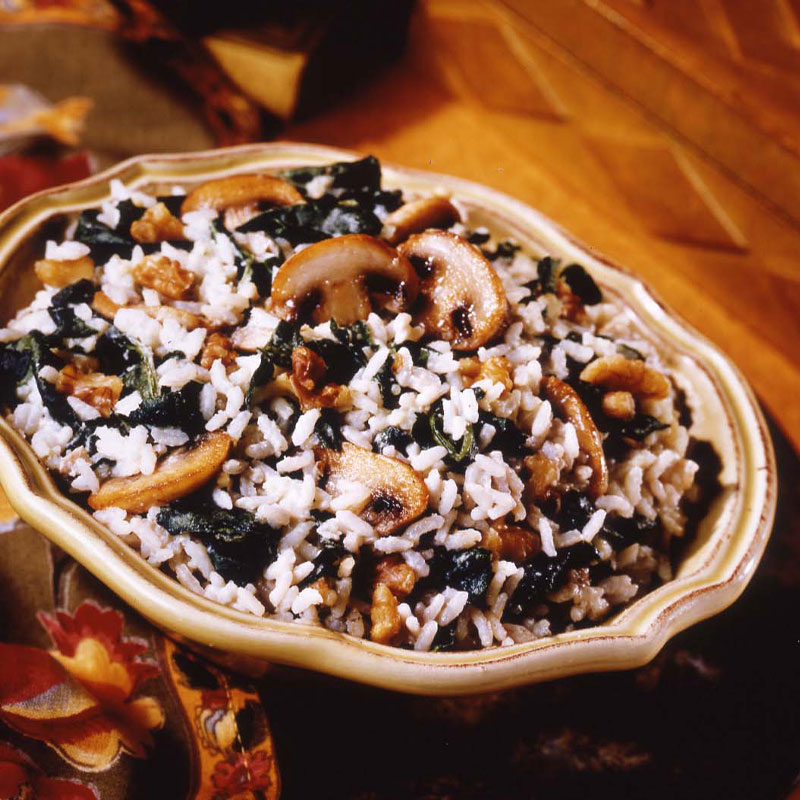 Walnut Rice with Cream Cheese, Mushrooms and Spinach
"Rice to the Rescue!" Recipe Contest Winner - Lane McLoud
Ingredients
⅓ cup butter

2 cups mushrooms, sliced

1 (3-ounce) package cream cheese, cubed

3 cups cooked rice

2 cups fresh spinach, torn

½ cup Parmesan cheese, grated

½ cup walnuts, chopped

¼ teaspoon salt

¼ teaspoon ground black pepper

Directions
Melt butter in large skillet over medium heat.

Add mushrooms; cook until soft, 2 to 4 minutes.

Add cream cheese; stir until melted.

Reduce heat to medium-low. Add rice; stir until well blended and heated through, 3 to 4 minutes. Remove from heat.

In large bowl, combine rice mixture, spinach, Parmesan cheese, walnuts, salt and pepper. Toss well.
Nutrition Facts
<ul>
<li><span>Calories</span> 330</li>
<li><span>Total Fat</span> 22g</li>
<li><span>Cholesterol</span> 42mg</li>
<li><span>Sodium</span> 662mg</li>
<li><span>Carbohydrates</span> 25g</li>
<li><span>Dietary Fiber</span> 2g</li>
<li><span>Protein</span> 9g</li>
</ul>