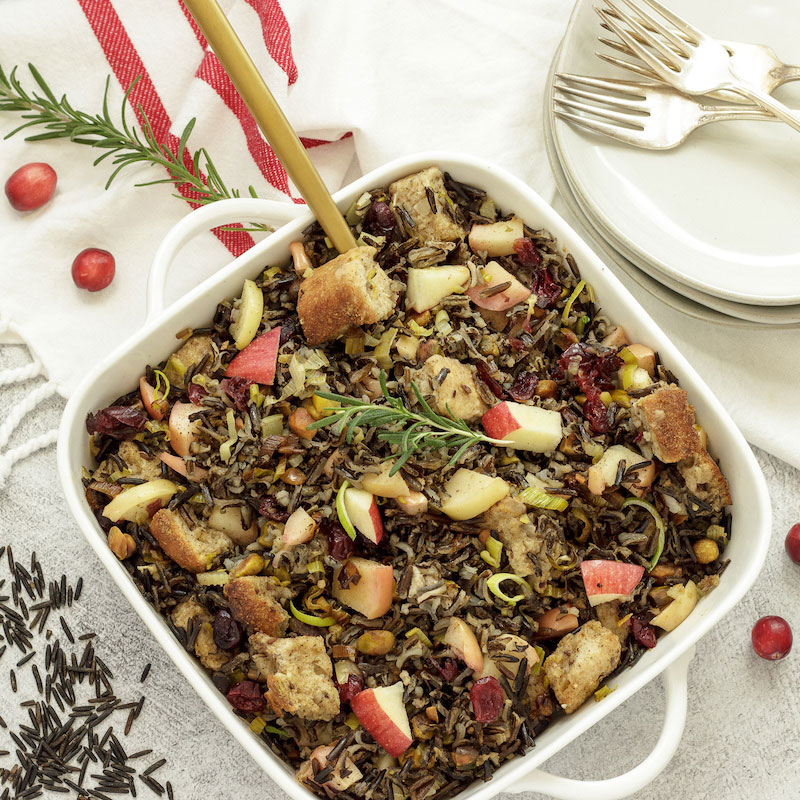 Wild Rice Stuffing Casserole
This easy make-ahead wild rice casserole is perfect for the holidays or a seasonal side dish for a weeknight dinner!

Featuring California-grown wild rice, this dish is both nutritious and delicious and comes to us from our friend Anne Danahy RD of cravingsomethinghealthy.com
Servings

8

Prep Time

20 min

Cook Time

1 hr 10 min

Total Time

1 hr 30 min
Ingredients
1 cup California-grown wild rice rinsed

3 cups water

½ teaspoon salt

1 medium leek

1 medium sweet apple

1 medium stalk celery

2 tablespoons olive oil

2 teaspoons poultry seasoning

2 cups gluten-free bread cubes (about 1" x 1"), toasted or regular whole grain bread if preferred

½ cup shelled pistachios roughly chopped

½ cup dried cranberries

¾ cup vegetable or chicken stock

salt to taste
Directions
Combine the rice, water, and ½ teaspoon salt in a saucepan. Bring the mixture to a boil, and then cover the pot, reduce the heat to low, and let the rice simmer for about 40 minutes or just until tender. Remove it from the heat. NOTE: you can prepare the rice a day ahead of time if desired.

While the rice is cooking, slice the leek into thin rings. Chop the apple into 1/2-inch cubes, and dice the celery.

Heat the olive oil in a saute pan over medium-high heat, and add the leek, apple, and celery. Saute for 8-10 minutes or until the leek turns golden.

When the rice is nearly cooked, preheat the oven to 325°F.

In a large mixing bowl, combine the cooked apples and vegetables with the poultry seasoning, bread cubes, pistachios, cranberries, and cooked rice. Toss everything well to combine.

Add the chicken stock to moisten everything. You may need less than ¾ cup or slightly more.

Add extra salt to taste.

Pour the stuffing into an 8×8 casserole dish. Cover lightly with foil, and bake the stuffing for about 20 minutes. Remove the foil for the last 10 minutes to allow the bread to get toasty.
Nutrition Facts
Calories

230kcal

Total Fat

8g

Saturated Fat

1g

Trans Fat

1g

Sodium

234mg

Carbohydrates

36g

Dietary Fiber

4g

Sugar

10g

Protein

7g