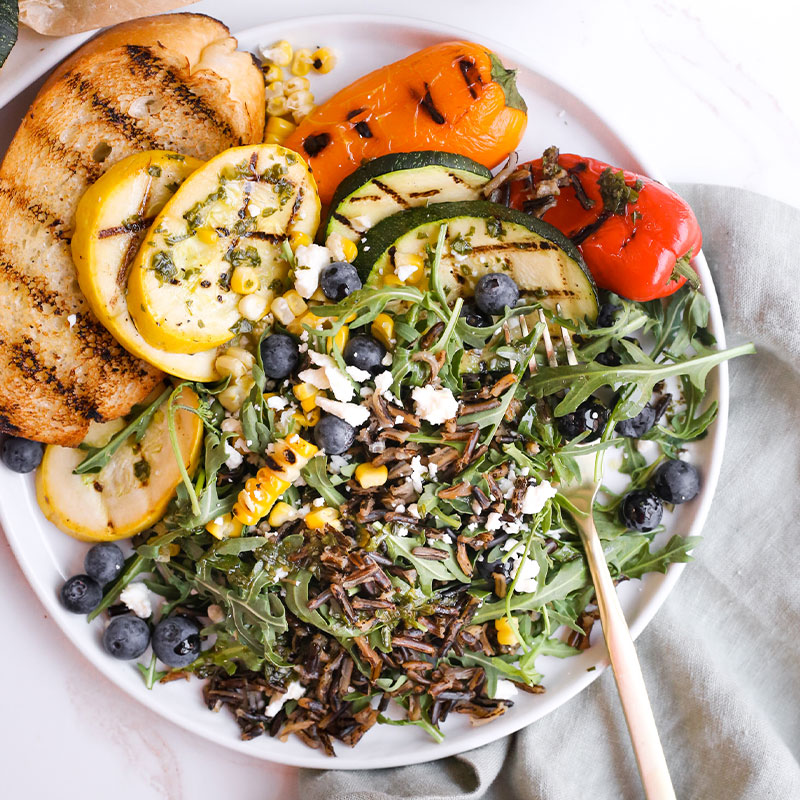 Wild Rice Summer Salad
This Wild Rice Salad with Feta and Grilled Vegetables is perfect for summer! Time to freshen up your salad with tender, hearty wild rice that perfectly complements the flavor of grilled summer vegetables and the Sweet Basil Vinaigrette.

This recipe stars California-grown wild rice and comes to us from our friend Cara of @Streetsmart.rd in partnership with USA Rice.
Servings

4

Prep Time

15 min

Cook Time

1 hr

Total Time

1 hr 15 min
Ingredients
Wild Rice Salad with Feta and Grilled Vegetables

4 oz California-grown wild rice uncooked

4 cups arugula or other salad greens

2 ears sweet corn shucked

12 mini bell peppers assorted colors

1 medium zucchini

1 medium yellow summer squash

1 cup blueberries
½ cup feta cheese crumbled
Sweet Basil Vinaigrette

⅓ cup olive oil

3 tablespoons rice vinegar

3 tablespoons basil

1 tablespoon honey

2 cloves garlic minced

1 pinch kosher salt

1 pinch black pepper coarsely ground
Directions
Sweet Basil Vinaigrette

Combine the olive oil, rice vinegar, honey, minced garlic, salt, and pepper in a small measuring cup, bowl, or jar. Take the fresh basil leaves and finely chop, then stir into the vinaigrette mixture. Set aside until ready to serve.
Wild Rice Salad

Start with the wild rice as it has the longest cooking time. Rinse the uncooked wild rice in a fine mesh strainer for 1-2 minutes, then add to your rice cooker or pot. Add water in a 2:1 or 3:1 ratio (depending on your cooking method and volume). Rice cooker method will cook 45-60 minutes, stovetop cooking (simmering, covered) will cook 45-50 minutes.

When rice is tender and split at the seams, revealing the inside of the grains, remove from heat and fluff with a fork. If needed, gently strain extra liquid before serving.

As the rice is cooking, prepare the vegetables. To quick cook the sweet corn, shuck the ears of corn. Wrap in a damp paper towel and microwave on high heat for two minutes. Continue with grilling over high heat until char marks appear, then carefully cut the kernels from the cob.

Slice the squash, zucchini, and bell peppers to your desired width and shape. Season lightly with preferred spice mix if desired, then grill on both sides. Rotate ¼ turn halfway through cooking on each side for additional grill marks.

To assemble and serve, layer the arugula or salad greens onto a serving tray (for family-style) or salad bowls or plates. Top with the grilled vegetables, fresh blueberries, feta cheese, and wild rice. Drizzle the Sweet Basil Vinaigrette over the top and serve immediately.
Recipe Notes
Although the recipe calls for 4 oz. uncooked rice, you can cook the wild rice according to your package directions or prepare a larger batch. Use for meal prep purposes throughout the week, or store cooked wild rice in the freezer up to three months.