May 24, 2018
Bowl-Meal Trend Livens-up Dining Hall Menus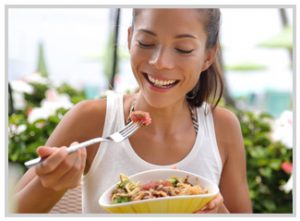 Volume 2, Issue 1 | May 2018
Healthy, colorful and loaded with flavor, bowl meals have become increasingly popular.
Between 2005 and 2015, the percentage of restaurants serving bowl meals grew by 73 percent. The bowl meal has also become a staple for college and university foodservice operators, because it's a healthy and customizable dish that can easily accommodate dietary restrictions.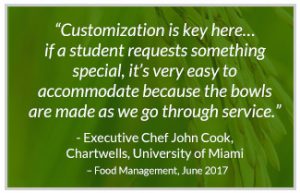 The bowl meal typically consists of fresh and functional ingredients like berries and vegetables, combined with a healthy base of quinoa or rice. Bowl meals can be dished-up in a number of ways, from sweet nut-and-berry breakfast medleys, to savory protein bowls topped with trendy vegetables, meat and zesty dressing. Many C&U operators are offering bowl meals that incorporate on-trend, ethnic-inspired flavors, along with a variety of U.S.-grown rice varieties, including basmati, jasmine and long- and short-grain brown rice.
For C&U operators, bowl meals offer an easy way to accommodate students' dietary restrictions. Rice is naturally gluten-free, and bowl meals can be adapted for vegan and vegetarian diets. Bowl meals are also satisfying, without being heavy or high in calories.
---
How to Implement
Many types of cuisine overlap in some way – cilantro, for example, is a common ingredient in both Asian and Latin American dishes. When you add bowl meals to your menu, you may find that you're spending less money on ingredients, because you can use many of the same ingredients in different bowl meals.
A bowl bar or action station allows diners to customize their meal. Here's what a bowl bar might look like, based on three styles of cuisine: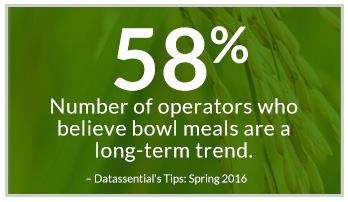 MEXICAN
– Ground taco meat, beef and chicken fajita meat, guacamole, a variety of salsas, lettuce, tomatoes, olives, and onions. Long-grain white rice is a perfect complement for this cuisine.
MEDITERRANEAN
– Falafel, Greek chicken, hummus, tzatiki sauce, onions, olives, lettuce, tomatoes, pepperoncini, and schwarma. This cuisine goes well with long-grain white or brown rice, jasmine or basmati.
ASIAN
– A stir-fry station, or poke bowl station, with ingredients like edamame, baby corn, carrots, onions, peppers and tofu, accompanied by medium-grain white and brown rice, jasmine or basmati.
---
Rice Bowl Recipes & Inspiration