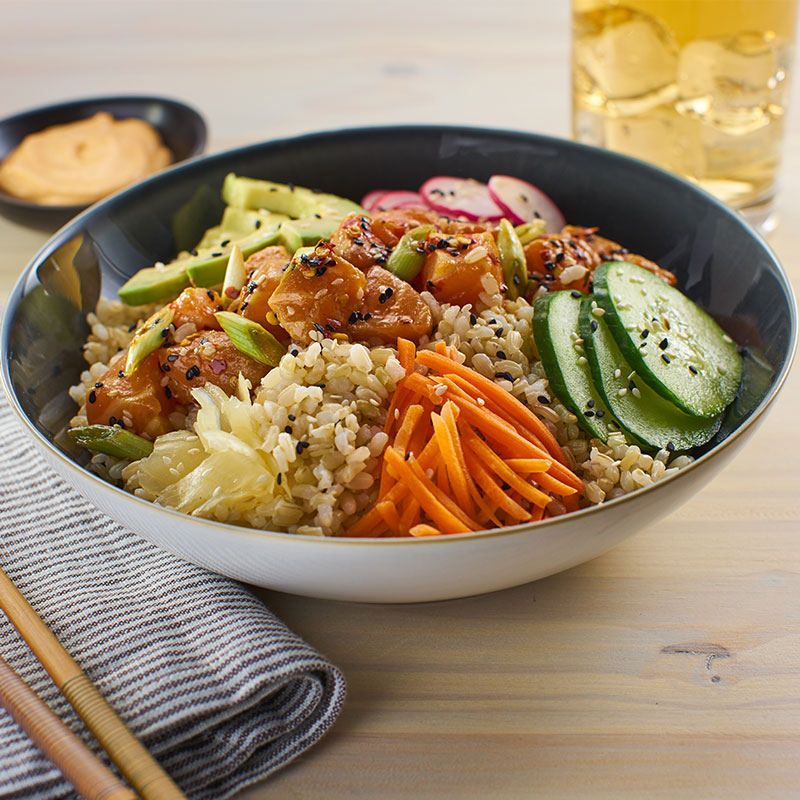 Ingredients
2 ½ cups U.S.-grown Calrose rice, steamed

dressed salmon (sub-recipe)

2 avocado slices

1 ½ cups cucumbers, sliced

1 cup carrots, shredded

¼ cup radish, shaved

¼ cup pickled ginger

2 tablespoons sesame seed blend

¼ cup sriracha mayo (sub-recipe)
Dressed Salmon:

sushi grade salmon, ½" diced

¼ cup soy sauce

1 teaspoon rice vinegar

1 ½ teaspoons sesame oil

¾ teaspoon red pepper flakes

⅓ cup green onions, sliced on bias

½ teaspoon sesame seeds, mixed
Sriracha Mayo:

½ cup mayonnaise

2 tablespoons sriracha
Directions
Poke Bowl

Cook rice and cool for later use.

Prepare sriracha mayo and set aside.

Toss Salmon in dressing and set aside.

Build bowls as follows: U.S. short grain brown rice, Dressed salmon, Avocado,
Cucumber, Carrots, Radishes, Pickled ginger, Sesame seeds, Sriracha mayo.

Dressed Salmon:

Sriracha Mayo:

Combine together, reserve for later use.