April 12, 2017
Bright, Flavorful Breakfast Bowls Invigorate Morning Mealtime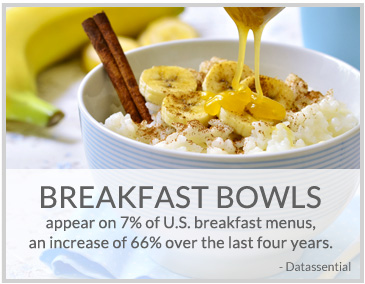 Volume 1, Issue 2 | April 2017
Breakfast bowls are emerging on college and university dining hall menus as a fast and flavorful solution for students on the go.
These one-dish meals allow C&U operators to showcase a range flavors that students love, while offering a healthy and satisfying breakfast. USA Rice is a perfect partner for these effortless and trending breakfast meals—rice is packed full of nutrients, pairs well with a myriad of flavors, and can be the foundation for a sweet or savory dish, allowing for more flexibility in the kitchen.

---
Simple additions can turn a basic breakfast bowl into a flavorful ethnic-inspired dish.
Breakfast Fried Rice
, made with U.S.-grown Texmati rice, for instance, can be customized with additions like chili powder, avocado, and queso, for a fun Mexican kick, or it can feature stir-fried vegetables and soy sauce for an Asian-inspired morning pick-me-up.
Rice is also gluten-free and perfect for vegetarian breakfast dishes like
Sweet Cherry Almond Breakfast Risotto
. Made from U.S.-grown short-grain brown rice, Breakfast Risotto is packed full of nutrients and can be personalized with tropical fruit, yogurt, granola and more! Plus, the addition of almonds mean this vegetarian dish is a good source of protein!

---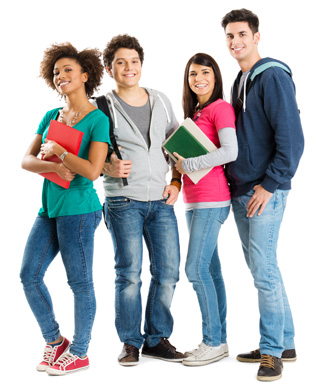 Keep students engines revved all day with rice!
Rice is a nutrient-dense, complex carbohydrate that the body slowly digests to help students stay energized throughout the day. Plus, research shows that eating rice increases levels of the feel-good chemical serotonin, which helps boost mood and keeps appetite in check. So, come on, get happy with rice!
Here are some quick tips to help C&U foodservice operators maximize students' energy with rice:
Power Up Your Students' Plate: Rice pairs perfectly with other healthy energy-boosting foods such as vegetables, fruit, lean protein, seafood, beans, nuts and soy.
Rice + Beans = Nutritional Power Couple: When eaten together, rice and beans provide all essential amino acids and deliver complete high-quality plant-based protein.
Refuel with Rice: Rice is the ideal addition to any meal—low in calories, gluten-free and packed with nutrients. Students can incorporate rice into pre- and post-workout meals to optimize the body's ability to recover and rebuild.
Learn more
about U.S.-grown rice for foodservice today!
---
Learn how colleges and universities are featuring rice for breakfast.
Last fall,
Cornell University in Ithaca, New York
, rolled out the "Breakfast of Change" program, which set a goal to add more vegetables to student meals during the breakfast hours. Students can customize their breakfast order by combining a choice of eggs, rice and vegetables into a flavorful and healthy bowl, or they can choose to order a signature item like the Morning Zhou—a Chinese porridge/broth soup with jasmine rice that's cooked with chicken or vegetable stock.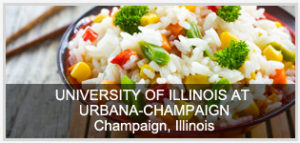 University of Illinois at Urbana-Champaign
strives to offer variety along with fresh and locally sourced ingredients whenever possible. The Illinois Street Dining Hall offers white rice almost every day on its breakfast menus and occasionally features kimchee with scrambled eggs and sticky rice.
---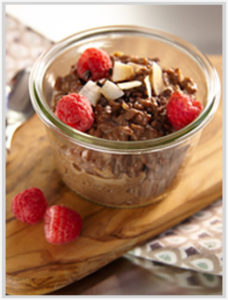 Recipe Ideas
These flavorful rice dishes are healthy and delicious.
Fruit & Nut Rice Bowl
: Cooked rice sweetened with brown sugar and cinnamon, garnished with fresh bananas, apples, and walnuts or almonds.
Huevos Rancheros Rice Bowl
: Cooked rice topped with seasoned black beans, crumbled feta, a fried or soft-boiled egg, avocado, and hot sauce on the side.
Breakfast Rice Pudding Bowl
: Vanilla or chocolate flavored rice pudding served with fresh berries, mango, or pineapple, and sprinkled with coconut flakes.