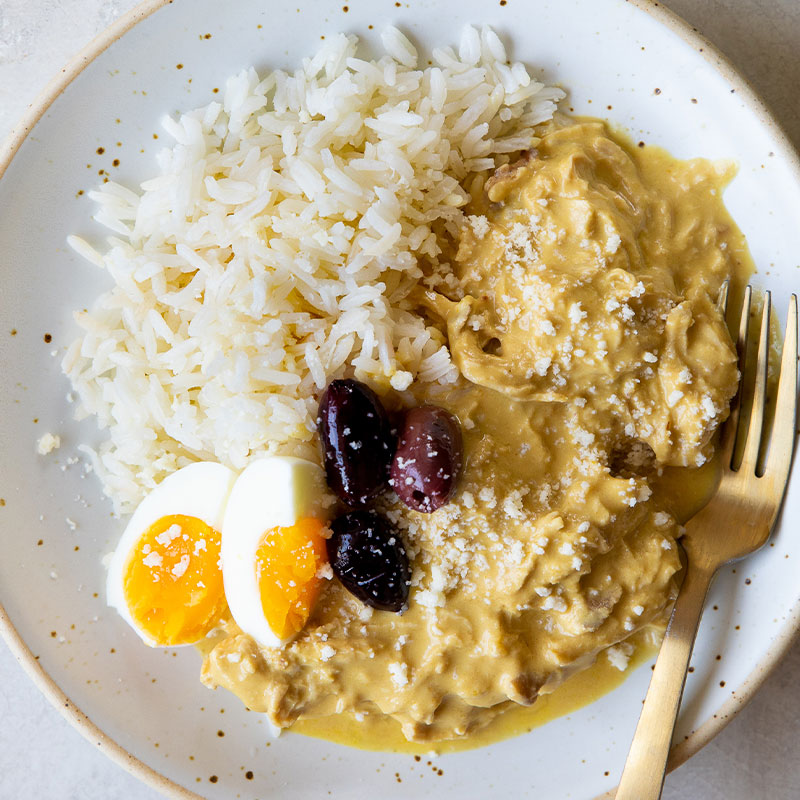 Aji de Gallina
Aji de Gallina is a Peruvian stew and the ultimate comfort food served with U.S.-grown long grain. This spicy chicken stew gets it name from the aji amarillo pepper and has just the right amount of heat to keep you wanting more!

This recipe comes to us from our friend Andrea Loret De Mola in partnership with TheFeedfeed.
Servings

4-6

Prep Time

10 min

Cook Time

25 min

Total Time

35 min
Ingredients
2 tablespoons vegetable oil

1 large red onion, chopped

6 cloves garlic, chopped

½ mild yellow chili paste (aji amarillo)

½ cup chopped walnuts, pecans or almonds, divided

1 teaspoon ground cumin

1 teaspoon dried oregano

salt, to taste

4 slices white bread

1½ cups whole milk (or plant milk of choice)

2½ cups low-sodium chicken stock, plus more if needed to achieve desired consistency

1 rotisserie chicken, shredded

1 ounce finely grated Parmesan cheese

black pepper, to taste

2 cups cooked long grain rice, for serving

2 hard-boiled eggs, for topping

12 Kalamata or Botija olives, for topping
Directions
Heat oil in a large pot over medium heat, add onions and garlic, and cook until softened, about 4-5 minutes. Add aji amarillo paste, half the nuts, cumin and oregano and continue to cook for a few more minutes. Season with salt. Transfer onion and garlic mixture to to the bowl of a blender or food processor and set aside. Set used pot aside.

Add bread to a bowl, cover with milk and soak for five minutes.

Transfer bread mixture to the to the bowl of a blender or food processor with the onion mixture and blend until smooth.

Heat same pot used for the aromatics over medium-high heat. Deglaze with chicken stock, scraping up any fond that collected on the bottom of the pan, then add blended sauce, stirring until well combined. Add shredded chicken, parmesan cheese and the remaining nuts. Simmer for 10 minutes. If stew begins to dry out, add more broth or milk to adjust the consistency to your liking. Season with salt and pepper.

Serve stew with rice, black olives and hard boiled egg.