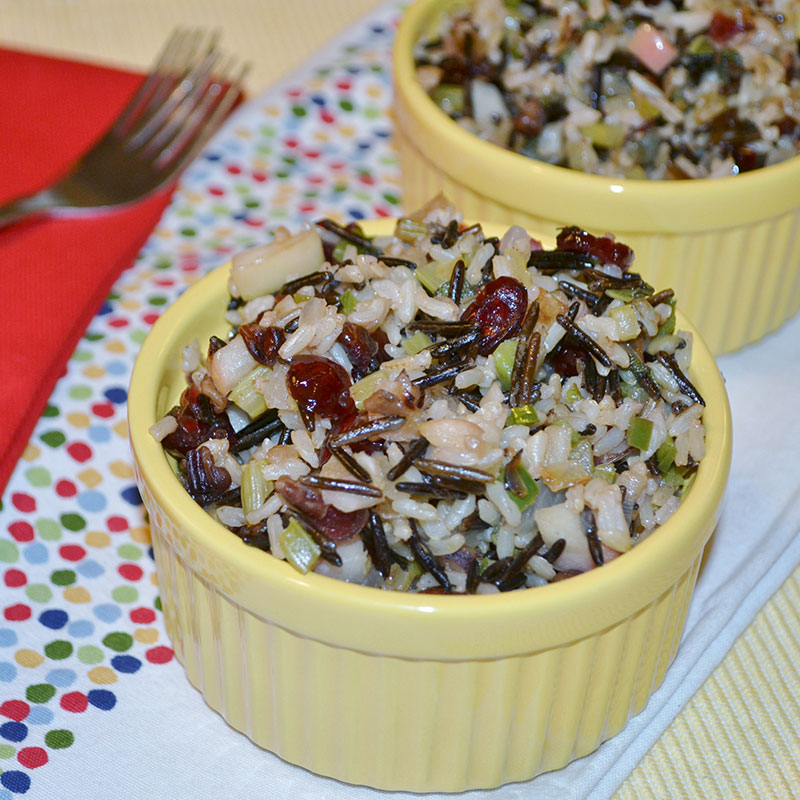 Apple-Sage Wild Rice Stuffing
Ingredients
4 ounces pecans, chopped
1 tablespoon and 1 teaspoon canola oil, divided use
1 ½ cups celery, diced
1 ½ cups onions, diced
1 medium red apple, halved, cored, and diced
2 cups hot cooked brown rice
1 cup hot cooked wild rice
½ cup dried cranberries
1 medium jalapeno pepper, seeded (if desired) and finely chopped OR 1/4 tsp. dried pepper flakes
1 ½ teaspoons dried rubbed sage
¾ teaspoon salt
Directions
Heat a Dutch oven over medium-high heat. Add the pecans and cook 2-3 minutes or until beginning to brown, stirring frequently. Set aside.
Heat 1 teaspoon of canola oil over medium heat.

Cook the celery and onions 8 minutes or until beginning to lightly brown on edges, stirring occasionally.
Add the apples and cook 4 minutes or until tender crisp.
Stir in the pecans and the remaining ingredients and cook 3-4 minutes or until the rice mixture is heated, stirring occasionally.
Recipe Notes
To cook rice, bring 2 ¼ cups water to boil in medium saucepan. Add ⅓ cup uncooked wild rice, reduce heat, cover, and simmer 5 minutes. Stir in ½ cup uncooked brown rice, cover, simmer 33-35 minutes or until tender and liquid is absorbed.
Nutrition Facts
Calories

170

Total Fat

9g

Sodium

160mg

Carbohydrates

22g

Dietary Fiber

3g

Protein

3g