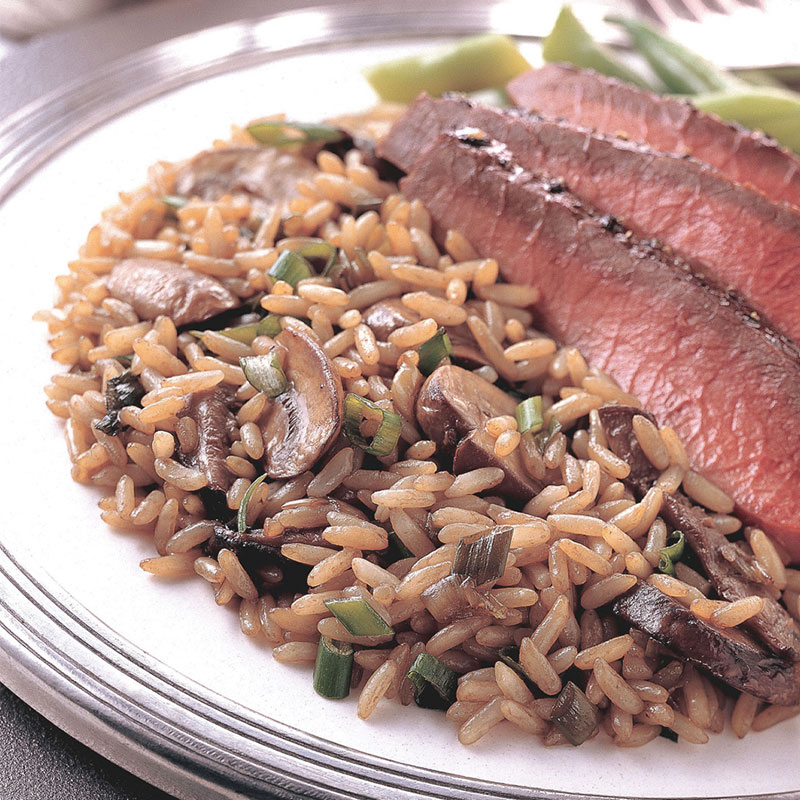 Beef Simmered Rice and Mushrooms
This rice absorbs the flavors of rich beef stock, enhanced by balsamic-soy marinated mushrooms.
Serving Size

½ cup

Prep Time

40 min

Cook Time

20 min

Total Time

40 min
Ingredients
½ cup olive oil

½ cup balsamic vinegar

½ cup soy sauce

3 cups mushrooms

3 cups beef stock

2 cups long grain or parboiled rice

2 tablespoons butter

1 cup scallion
Directions
In bowl whisk together oil, vinegar and soy sauce. Add mushrooms and toss to coat well. Let stand at least 30 minutes before using as directed.

While mushrooms marinate, in large saucepan heat stock over medium heat to boiling. Stir in rice, bring to a simmer, reduce heat, cover and cook 18-20 minutes until stock is absorbed. (Rice will be drier than normal.)

In large skillet, heat butter over medium heat. Drain mushrooms and add to butter in skillet; sauté until tender and mushrooms release liquids. Add scallion and sauté an additional 1 minute. Stir in rice and stir to coat.