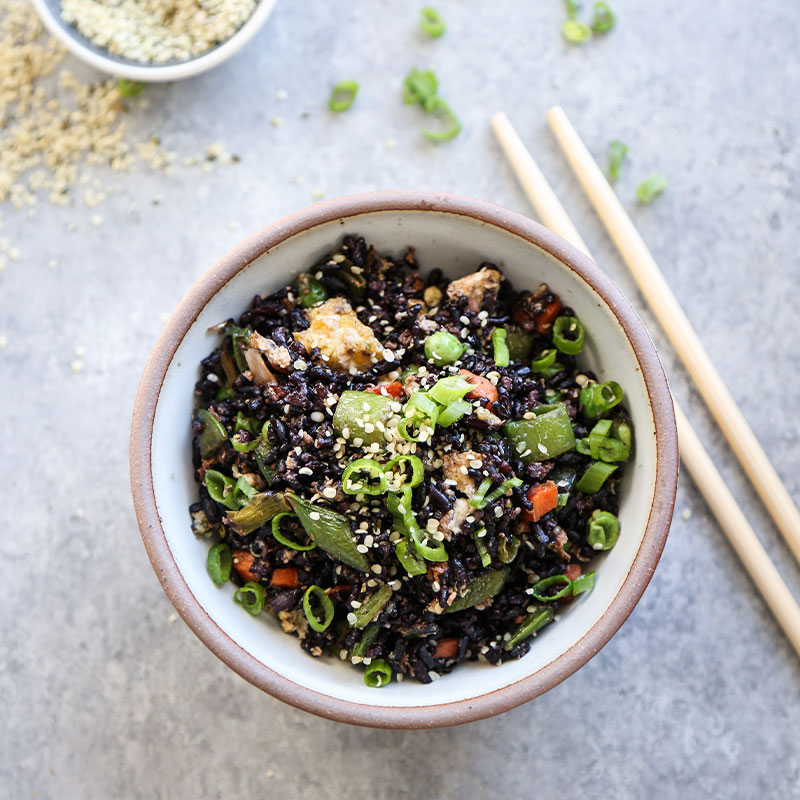 Black Fried Rice with Snap Peas
This vegetarian U.S.-grown Black Japonica Fried Rice recipe was created by Ashley Cuoco in partnership with USA Rice and TheFeedFeed.
Prep Time

20 min

Cook Time

20 min

Total Time

40 min
Ingredients
3 cups U.S.-grown black japonica rice, cooked

2 tablespoons organic virgin coconut oil

2 medium carrots, diced

1 small yellow onion, diced

1 bunch scallions (white and green separated), thinly sliced

1 cup snap peas, thinly sliced

2 cloves garlic, minced

1 tablespoon fresh ginger, minced

⅓ cup frozen sweet peas

3 tablespoons gluten-free tamari

2 teaspoons toasted sesame oil

1 teaspoon sriracha

2 eggs, beaten

1 tablespoon organic shelled hemp seeds
Directions
In a large wok or nonstick skillet heat the coconut oil. Sauté the carrot, onion, and white scallion over high heat until soft and beginning to brown, about 5 minutes. Add the snap peas, garlic, ginger, and green scallions and stir-fry until fragrant, another 2 minutes. Fold in the rice and stir-fry until well-coated in the vegetable mixture and beginning to toast, 2 minutes. Add the sweet peas, gluten-free tamari, sesame oil, and sriracha and stir to combine.


Push the rice to the side of the pan to create a well. Pour the eggs into the center and cook, stirring gently, until nearly set. Toss the fried rice with the eggs and hemp seeds. Transfer the fried rice to bowls and serve right away.
Recipe Notes
Fried rice recipes work best when the grains are a day or two old. Split up your cooking work and make the black japonica rice the day before.