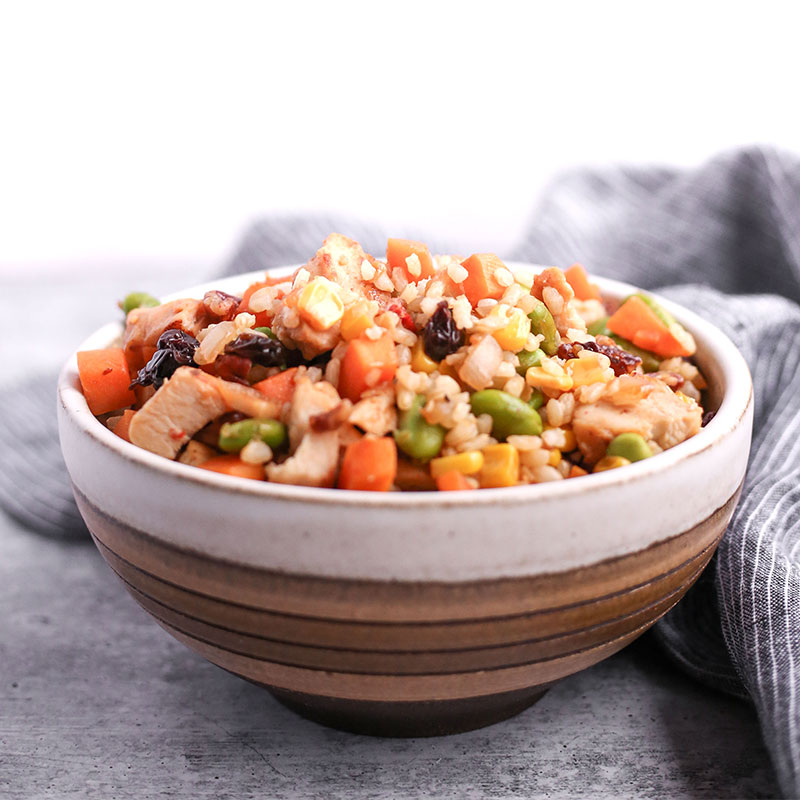 Brown Rice and Sweet Potato Hash
Looking for a great homemade meal using just pantry staples? Look no further than this Brown Rice & Sweet Potato Hash recipe starring U.S.-grown brown short grain rice. Easy to cook, familiar ingredients, and ready in just 30 minutes! This recipe comes from our friend Cara Harbstreet of Street Smart Nutrition.
Servings

6

Prep Time

5 min

Cook Time

30 min

Total Time

35 min
Ingredients
1 cup U.S.-grown short grain brown rice

2 cup water

pinch of salt

2 tablespoons olive oil, divided

1 cup sweet yellow onion, minced

large sweet potato, ¼-inch cubes chopped

1 cup sweet corn kernels (canned or frozen)

1 cup frozen shelled edamame

½ cup pecans, chopped

½ cup dried cranberries

2 cup cooked chicken, shredded or chopped

½ teaspoon garlic powder

salt & pepper to taste
Directions
Add the water to your pot along with a pinch of salt. Bring to a boil over high heat.

Add the uncooked brown rice, then reduce to a simmer. Cover the pot with a lid and allow to cook about 30 minutes, or until all liquid is absorbed and the rice is fully cooked.

While the rice is cooking, prepare the other ingredients. Heat one tablespoon olive oil in a large nonstick skillet over medium-high heat. Once the oil is heated and glistening, add the yellow onion. Allow to cook 5 minutes, or until onions become translucent and the edges begin to brown.

Add the chopped sweet potato and the remaining olive oil. Allow to cook over medium to medium-high heat, stirring occasionally. After about 10-12 minutes, add the corn, edamame, and garlic powder. Stir to combine.

As the sweet potatoes finish cooking, add the pecans, dried cranberries, and cooked chicken. Once rice is cooked, add to the skillet and fold all ingredients together. Season with salt and pepper according to taste and serve immediately. Season with fresh or dried herbs and spices (optional) or stir in a sauce or dressing if desired.
Recipe Notes
The sweet potatoes will cook evenly if they are chopped into the same size. Larger cubes will add to your cooking time but be sure not to overcook very small cubes or they may become too soft.