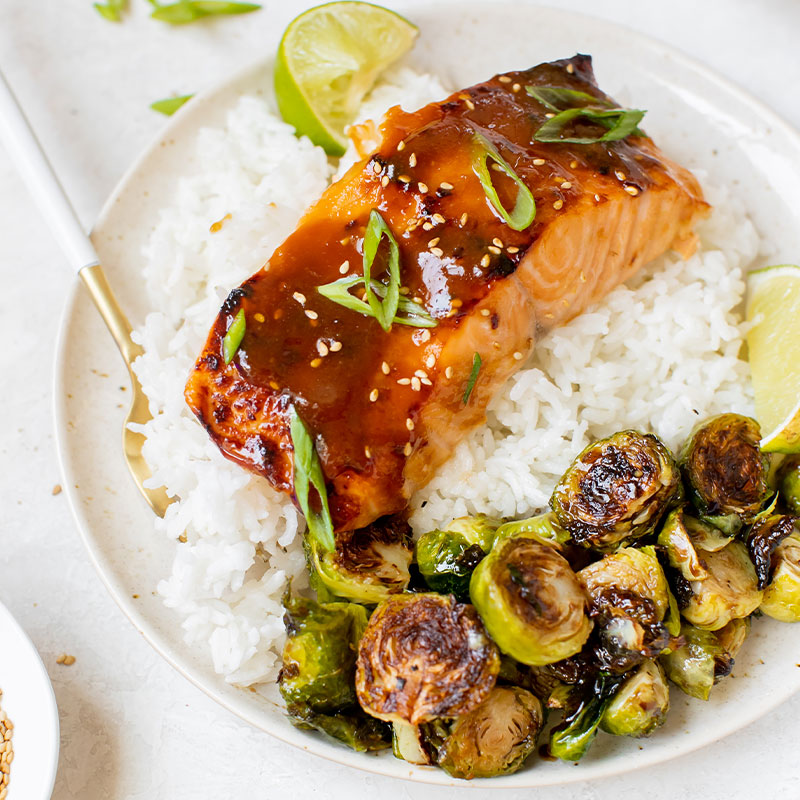 Brown Sugar Glazed Salmon
Our Brown Sugar Glazed Salmon recipe is the perfect easy weeknight dinner! You will love the unbelievable brown sugar miso glaze and the total cook time of just 30 minutes.

This dish stars U.S.-grown sushi rice (short grain) and comes to us from our friend Tawnie of Kroll's Korner.
Servings

4

Prep Time

10 min

Cook Time

20 min

Total Time

30 min
Ingredients
2 cups U.S.-grown short grain white sushi rice

4, (5-6 oz.) salmon fillets

1 teaspoon kosher salt

1 tablespoon olive oil

1/4 cup soy sauce

1/4 cup dark brown sugar + 1 tablespoon

1/4 cup white miso

3 tablespoons rice vinegar (rice wine vinegar)

1 teaspoon garlic, crushed

1 teaspoon ginger, minced

1/2 teaspoon red pepper chili flakes

garnish: green onions, toasted sesame seeds, lime wedges
Directions
Cook the U.S.-grown short grain white rice: For short grain rice, you'll use this ratio: 1 cup rice to 1¼ cup cups water. Combine rice and water in a 2 quart saucepan. Heat to boiling; stir once or twice. Reduce heat to low; cover and simmer for 15-18 minutes. Remove lid carefully and fluff with a fork. If rice is not quite tender or liquid is not absorbed, replace lid and cook for a few minutes longer.

Make the sauce: Whisk soy sauce, brown sugar, white miso, rice vinegar, garlic, ginger and red pepper chili flakes together in a bowl or measuring cup. Set glaze aside.

Preheat oven to high broil.

Prepare salmon: remove moisture from salmon by patting dry with paper towels. Season with kosher salt.

Cook salmon: Drizzle olive oil in an oven safe baking dish and place salmon fillets in dish. Evenly pour ½ cup of sauce over salmon. Sprinkle remaining 1 Tbsp. brown sugar over salmon. Broil for 8-10* minutes.

Remove from oven: Make sure salmon is done. Take a fork and see if it easily flakes apart. Drizzle with remaining glaze if desired, garnish with green onions, toasted sesame seeds and lime wedges. Serve with cooked rice and roasted Brussels sprouts or veggie of choice.
Recipe Notes
Keep an eye on the salmon when using the broil feature since ovens may vary.
Store in airtight container in fridge for 3-5 days.
Allow salmon to come to room temperature for 15-20 minutes. The colder the salmon is prior to cooking, the higher the chance it is to overcook the outside before the middle is cooked.
Nutrition Facts
Calories

470kcal

Total Fat

5g

Saturated Fat

1g

Cholesterol

1mg

Sodium

1938mg

Carbohydrates

57g

Dietary Fiber

2g

Sugar

15g

Protein

30g