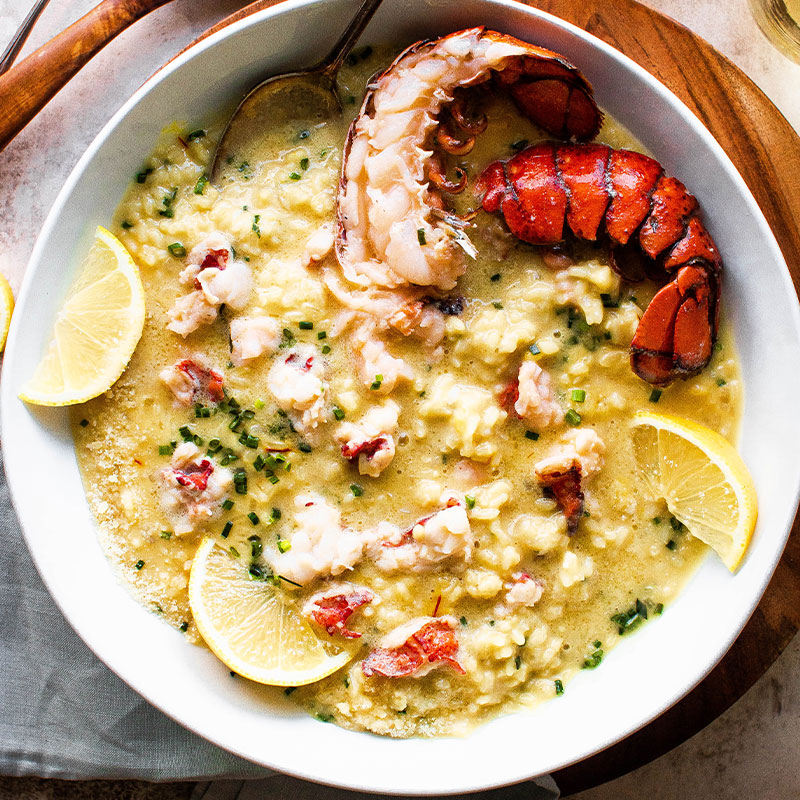 Butter Poached Lobster Risotto
Looking for a dish that feels restuarant quality, but is easy to make? Look no further than our Butter Poached Lobster Risotto!

This delicious dish stars U.S.-grown arborio rice and comes to us from our friend @Jennygoychea in partnership with USA Rice and Thefeedfeed.
Servings

2

Serving Size

1 bowl

Total Time

35 min
Ingredients
2 sticks salted butter

2 garlic cloves, crushed

1 bay leaf

2 sprigs tarragon

3 (4-5 oz) lobster tails, meat removed from shell and shells reserved

2 tablespoons salted butter

1 large shallot, minced

¾ cup arborio or medium grain rice

½ cup dry white wine

1 pinch of saffron (optional)

4-5 cups homemade lobster stock, simmering

3 tablespoons salted butter, diced

½ cup freshly grated parmesan

salt and pepper to taste

1 tablespoons minced chives

lemon slices, for squeezing
Directions
In a small saucepan, melt the 2 sticks of butter over low heat. Add the garlic, bay leaf, and tarragon sprigs and keep warm on the lowest heat setting while we make our risotto.

In a wide and shallow skillet, melt the two tablespoons of butter over medium heat. Add the shallot and cook for 1-2 minutes, stirring constantly, until the shallots have softened. Add the rice and cook for another minute, while stirring, so that the rice is coated in the butter. Add the pinch of saffron, if using, and the white wine and simmer until the wine is absorbed into the rice.

Once the wine has been absorbed into the rice, add 1 cup of warm broth while constantly stirring the pot. This is the key to risotto, continuous stirring which releases starch from the rice and creates creaminess. Once that broth has been absorbed, add another cup. A trick to tell when it's time to add more broth is if the bottom of the pan is exposed when you drag your spoon across the bottom. You will continue to add broth, 1 cup at a time, while stirring until it has been absorbed into the rice and the rice is just slightly al dente, about 20-22 minutes.

Once rice has reached desired degree of cooking, turn off the heat. Stir in the butter and parmesan and continue to stir until the cheese and butter are melted and evenly dispersed. Top with chives and set aside.

Roughly chop the lobster meat into chunks and increase the heat on the melted butter to medium-low. Add the lobster meat to the butter and gently baste the warm butter over the lobster until the flesh has turned white, about 4-5 minutes. Using a slotted spoon, transfer the poached lobster to the risotto and gently fold the lobster in. Serve with lemon wedges on the side and more parmesan.
Recipe Notes
What's butter-poached lobster?
Poaching is to cook something quickly in simmering liquid (think poached eggs!). In this instance, we are using melted butter infused with aromatics (garlic, bay leaf, and tarragon) that we'll gently cook the lobster in. Cooking it this way will ensure that we don't overcook it and it will be melt-in-your-mouth tender.

What's lobster stock and how do I make it?
Lobster stock is a broth made from the reserved lobster shells and some aromatics. You first start by removing the lobster meat from the tail shell. This can be accomplished by cutting the tail in half length-wise with sharp kitchen shears or a sharp knife. The meat is then eased away from the shell and roughly chopped before cooking. If I'm making lobster risotto for dinner, I'll remove the meat from the tail shells about 2-3 hours before dinner and make a quick stock by combining the lobster shells, ¼ onion, ¼ fennel bulb, 2 carrots (chopped), 1 bay leaf, and 1 tablespoon of black peppercorns with 3 quarts of water.
Simmer until reduced by ⅔ so that you have about 4-5 cups of stock. Strain through a fine mesh strainer and reserve for cooking the lobster risotto. This is a great use of the shells and it makes the broth extra flavorful.