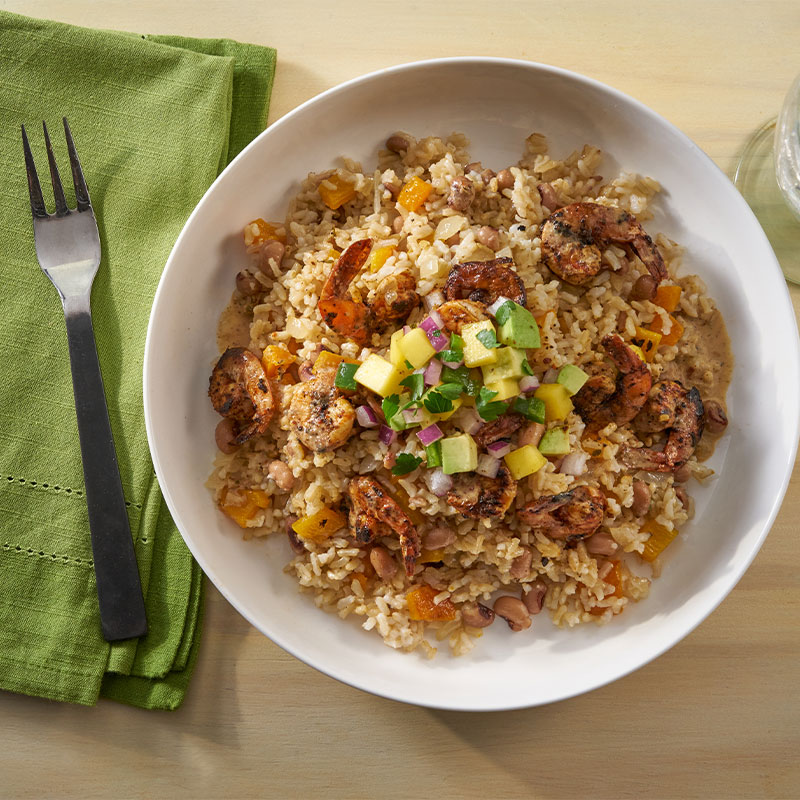 Caribbean Shrimp and Rice
Ingredients
Caribbean shrimp and rice

4½ cups rice (sub recipe)

6 mango guacamole, seasoned with black pepper, seared (sub recipe)

¼ cup shrimp (sub recipe)

¾ cup shrimp sauce (sub recipe)
Rice

1 bag Ben's quick whole grain brown rice

1 each orange bell pepper, roasted, peeled, diced

½ each Spanish onion, diced

½ cup black eyed peas, cooked, drained

Mango guacamole
1 each avocado, peeled, diced

½ each mango, peeled, diced

½ each red onion, diced

½ each jalapeño, seeded, finely diced

2 each lime, juiced

salt, to taste

pepper, to taste
Shrimp

8 each gulf shrimp, peeled, deveined, save shells

2 tablespoon jerk seasoning
Directions
Assemble in the following order: Rice, Shrimp, Mango Guacamole, Shrimp Sauce.

Make Rice: Cook rice according to package; Sauté onions until soft;
add peppers and black eyed peas; fold into cooked rice.
Make Mango Guacamole: Combine all ingredients in bowl.
Make Shrimp: Toss shrimp in seasoning; Sear in hot pan until slightly blackened on each end.