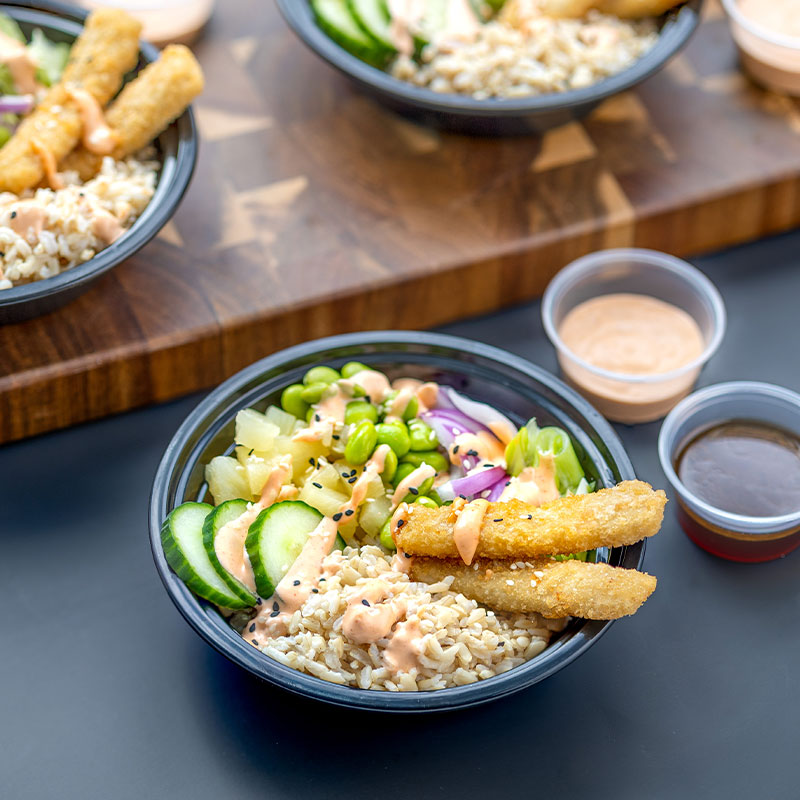 Hawaiian Poke Bowl
Crunchy fish sticks and delicious vegetables served alongside fluffy U.S.-grown brown long grain rice and sriracha mayonnaise. Kids will delight in the flavors of soy sauce, honey, and lime that bring this poke bowl to life!

This tasty K-12 school recipe was created for us by our friend Chef Sam Cowens-Gasbarro. Click on the PDF below to download the full recipe with crediting from the USDA Food Buying Guide recipe analysis workbook (RAW).
Ingredients
Rice
6 ¼ pounds brown long grain rice, dry
6 ¼ quarts water
Sriracha Mayonnaise

5 cups mayonnaise, reduced fat, reduced sodium
10 ounces sriracha
Poke Sauce

6 ounces reduced sodium soy sauce

6 ounces apple cider vinegar

6 ounces sesame/canola blend oil

4 ounces honey
3 ounces fresh lime juice
Bowl Toppings

6 ¼ pounds Alaska pollock fish sticks, frozen

4 ¾ pounds edamame, shelled, frozen

1 ½ # 10 can (12 ½ cups) pineapple tidbits, drained

2 pounds English cucumber, thinly sliced

3 ½ pounds red onion, julienne

1 ¾ pounds green onions, thinly sliced on bias
Directions
Rice

Combine rice, water, and salt into a 2-inch half-size steamtable pan. Stir to combine. Cover tightly. For 50 servings use 2 pans.

Oven Method: Cook in a 350 °F oven for 45 to 55 minutes.
Steamer Method: Cook in a steamer for 30 to 40 minutes.
CCP: Heat to 135 °F for at least 15 seconds.

Remove from oven or steamer and let stand for 15 minutes.

Remove cover; fluff rice with a fork before serving.
CCP: Hold warm, above 135 °F for service.
Sriracha Mayonnaise

Mix mayonnaise and sriracha together.
CCP: hold cold for service, below 41 °F.
Serve 1 ounce per bowl.
Poke Sauce
Mix all ingredients together in a bowl.
CCP: hold cold for service, below 41 °F.
Serve ½ ounce per bowl.

Bowl Toppings

Bake Alaska pollock fish sticks according to package directions.

Cook edamame according to package instructions.
CCP: Hold warm, above 135 °F for service.

Bowl Assembly

Place 1 cup (2 - #8 scoops) of brown rice in each serving bowl.

Top with 2 fish sticks.

Add ¼ cup (#16 scoop) of cooked edamame.

Add ¼ cup (#16 scoop) of drained pineapple tidbits.

Garnish with 1/8 cup of sliced cucumbers, ¼ cup of julienne red onion, and 2 tablespoons of thinly sliced green onions.

Serve with 1-ounce Sriracha mayonnaise and 1 tablespoon of poke sauce.
Recipe Notes
One portion provides: 2 oz. eq. grain, 2 oz. eq. meat/meat alternate, ½ cup vegetable, ¼ cup fruit

Starting with hot water in cooking rice will reduce cooking time.

Recipe source: Samantha Cowens-Gasbarro, Healthy School Recipes
Nutrition Facts
Calories

630

Total Fat

259g

Saturated Fat

4.5g

Cholesterol

30mg

Sodium

600mg

Carbohydrates

78g

Dietary Fiber

7g

Sugar

13g

Protein

12g