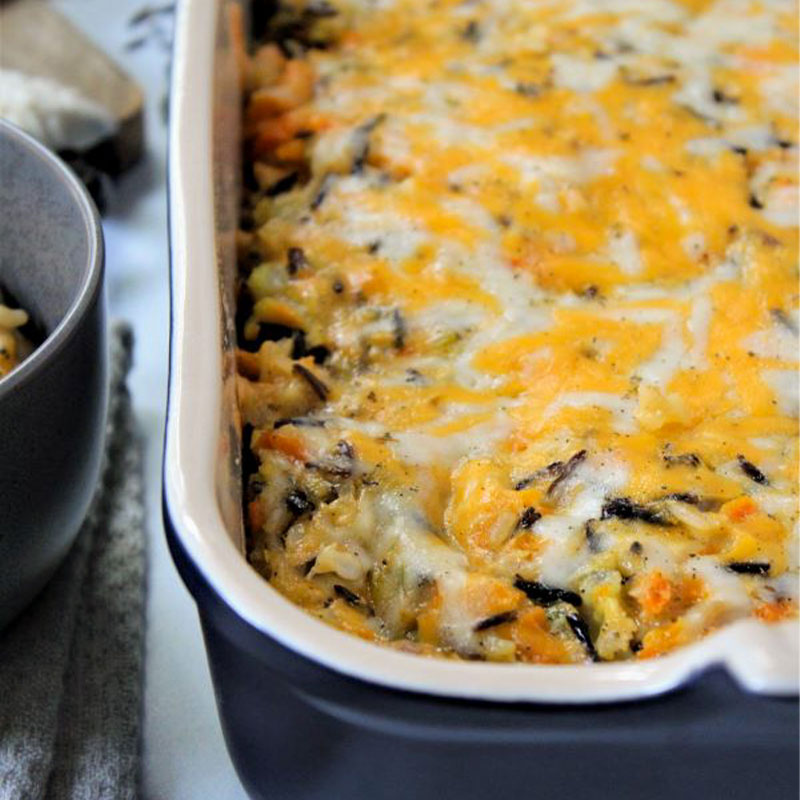 Cheesy Chicken Wild Rice Casserole
This Cheesy Chicken Wild Rice Casserole is packed with fresh vegetables, protein, fragrant spices, and of course U.S.-grown rice!

This dish features both U.S.-grown brown rice and U.S.-grown Wild Rice and comes to us from our friend Laura Doerr of Ways to My Heart.
Servings

8

Prep Time

25 min

Cook Time

25 min

Total Time

50 min
Ingredients
2 cups cooked brown rice

1 cup cooked wild rice

¼ cup olive oil

1 cup carrots, chopped

1 cup celery, chopped

medium yellow onion, diced

3 garlic cloves, minced

½ teaspoon dried thyme leaves

1 teaspoon rubbed sage

2 cups cooked chopped chicken

½ teaspoon kosher salt
black pepper (to taste)
Sauce

4 tablespoons unsalted butter

¼ cup all-purpose flour

2 cups low-sodium chicken broth

1 tablespoon sherry cooking wine

black pepper (to-taste)

2 cups shredded sharp cheddar cheese

1 cup shredded monterey jack cheese

pinch of rubbed sage
Directions
Preheat oven to 350˚F. Spray a 9×13-inch casserole dish with non-stick cooking spray.

Add olive oil, carrots, celery, and onions to a large pot or Dutch oven over medium-high heat. Sauté for 5-10 minutes. Stir in garlic, dried thyme leaves, and rubbed sage, cook for 1 minute. Stir in chopped chicken, wild rice, brown rice, and salt and pepper. Cover and remove from heat while you make the sauce.

To make the sauce, in a medium saucepan, melt butter over medium-low heat. Whisk in flour, and whisk continuously for 1-2 minutes to cook out the raw flour. Slowly pour in the chicken broth while whisking, bring heat up to high until sauce is boiling. Reduce heat to low and whisk in sherry wine, fresh cracked pepper, and the 2 cups of sharp cheddar cheese. Once smooth and cheese is fully melted, pour sauce into the chicken and rice mixture. Stir to combine, and pour into the prepared baking dish. Top with Monterey Jack cheese. Bake for 25 minutes or until sides begin to bubble and cheese is melted.

Sprinkle with rubbed sage for garnish and extra flavor.
Recipe Notes
Prep time does not account for rice cooking time. Make sure to read your rice instructions and plan for rice cooking time.

If casserole seems too dry, stir in additional chicken broth before transferring to baking dish.