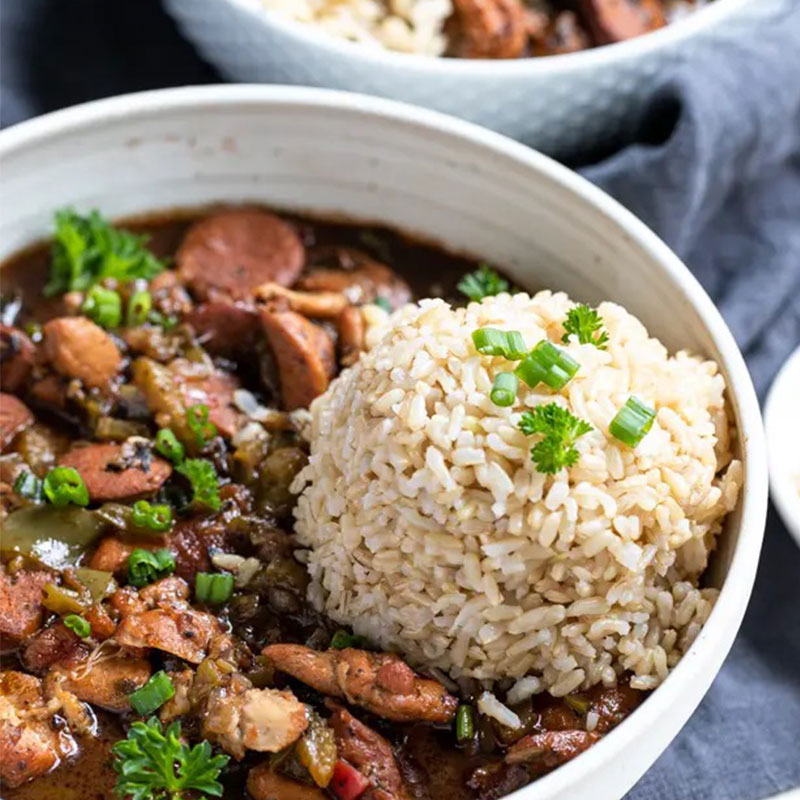 Chicken & Sausage Gumbo
A convenient twist on a Cajun staple! This Chicken and Sausage Gumbo features U.S.-grown brown long grain rice and is realistic enough for you to make for a weeknight dinner or for meal prep. This recipe comes to use from Kroll's Korner in partnership with USA Rice.
Servings

10

Prep Time

30 min

Cook Time

3 hr

Total Time

3 hr 30 min
Ingredients
2 cups U.S.-grown long grain brown rice

1 pound chicken thighs, cut into bite-sized pieces

2 teaspoons Cajun seasoning (subrecipe below)

2 tablespoons olive oil

1 (16-ounce) package andouille sausage, ½ inch slices coins

½ cup all-purpose flour

½ cup grapeseed oil

1 ½ cup celery, chopped

1 jalapeno, diced

1 large yellow onion, diced

2 green bell peppers, diced

8 cups chicken broth

14 ounce can fire-roasted tomatoes

1 tablespoon dried parsley

5 garlic cloves, minced

1 teaspoon dried basil

1 teaspoon thyme

1 tablespoon pepper

1 teaspoon paprika

2 bay leaves
Cajun Spice Recipe

2 tablespoons garlic powder

2 tablespoons Italian Seasoning

2 tablespoons paprika

2 tablespoons salt

1 tablespoon black pepper

1 tablespoon cayenne pepper

1 tablespoon dried thyme

1 tablespoon onion powder
Directions
Preheat oven to 425°F. Cut up chicken thighs into small bite sized pieces. Place in a small bowl and toss with Cajun seasoning and olive oil. Place on a sheet pan lined with foil and place in oven for 20-25 minutes.

While the chicken is cooking, dice up the celery, jalapeño and bell pepper. Place them all in one bowl. It is important to cut and prepare the veggies before making roux so you have these ingredients ready to go.

In a large heavy bottomed pot (preferably a Dutch oven), over medium-low, add in grapeseed oil and get the oil warm (1-2 minutes on the stove). Then, slowly whisk in flour to combine. Switch to a wooden spoon and stir continuously for 15-20 minutes (without burning) until roux becomes a dark brown color (think chocolate). DO NOT WALK AWAY FROM STOVE. Roux can easily burn.

Remove chicken from the oven and set aside. When roux reaches desired color, add in celery, jalapeño, onion, and pepper into roux. Continuously stir until vegetables are soft and tender (7-10 minutes). Add in garlic.

Whisk in chicken broth, reduce heat to a simmer and add in tomatoes, dried parsley, basil, thyme, pepper, paprika, and bay leaves. Stir and allow mixture to come to a simmer. Add in chicken and sausage.

Simmer over low heat for 1-3 hours. This is a key step so the flavors meld and roux can develop. Serve with cooked brown rice on top and garnish with green onions or parsley.
Recipe Notes
If roux burns, it is best to start over. Burnt roux will not give a great flavor. Darker roux will give deeper flavor profile.
If you don't have a jalapeño you can add in a hot sauce.
If you want to add shrimp, add into gumbo about 10 minutes before removing pot from stove.