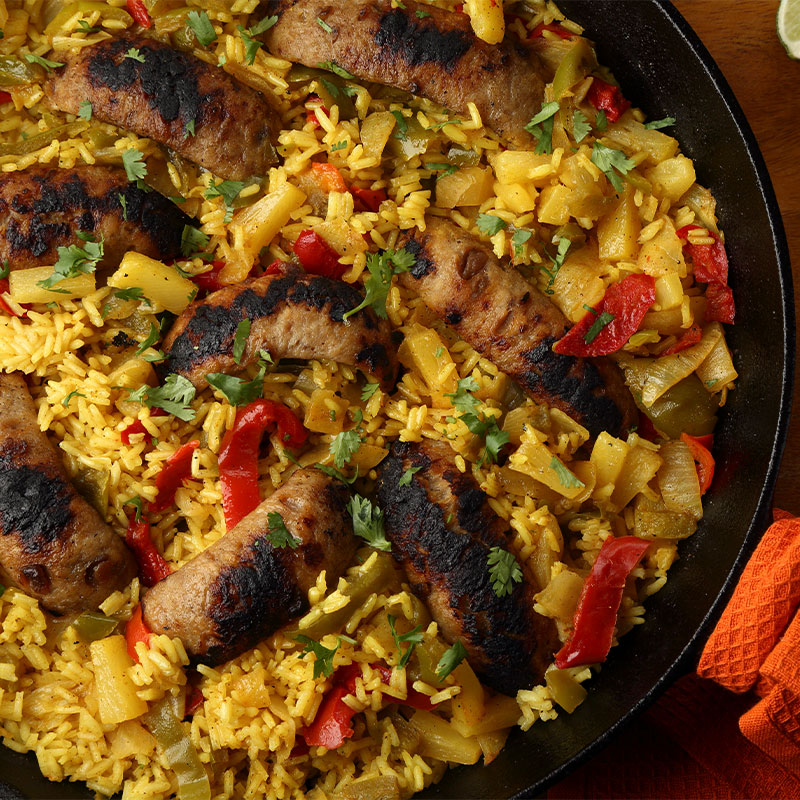 Chicken-Apple Sausage Links and Pineapple Rice
Make life easy with our "No-Measure" Chicken-Apple Sausage and Pineapple Rice recipe-all you need to measure is a cup of rice! This dish features U.S.-grown long grain rice and requires less than 30 minutes of cooking time.
Servings

4

Serving Size

2 sausage halves; ¾ cup rice mixture

Prep Time

10 min

Cook Time

28 min

Total Time

38 min
Ingredients
4 chicken-apple sausage links, cut in half lengthwise

1 can (14.5-oz) of chicken broth

1 package (14-oz) of frozen peppers & onions, thawed

1 can (8-oz) of pineapple tidbits (in juice)

1 cup long grain white rice, uncooked

curry powder (to taste)

fresh cilantro (to taste)

1 lime, quartered

Directions
Heat a large skillet coated with cooking spray over medium-high heat. Add sausage and cook 2 minutes on each side or until browned. Set aside on separate plate.

To pan residue, add the broth, peppers and onions, the pineapple and its juices, and sprinkle generously with curry powder. Cover and bring to a boil over medium-high heat. Stir in the rice and top with the sausage, cut side up. Press down on sausage to "nestle" into the rice mixture slightly.

Return to a boil, reduce to low heat, cover and cook 15 to 18 minutes or until rice is tender. Remove from heat.

Sprinkle with cilantro and serve with lime wedges to squeeze over all.

Makes 6 cups total. Serves 4; 2 sausage halves and about ¾ cup rice mixture per serving
Recipe Notes
For a spicier dish, add a pinch or two of crushed pepper flakes when adding the rice.

To thaw frozen peppers and onions, place in a colander and run under cold water until flexible. Drain well.
Nutrition Facts
Serving

479

Calories

400

Total Fat

7g

Saturated Fat

2g

Trans Fat

0g

Cholesterol

55mg

Sodium

830mg

Carbohydrates

62g

Dietary Fiber

2g

Sugar

18g

Protein

19g