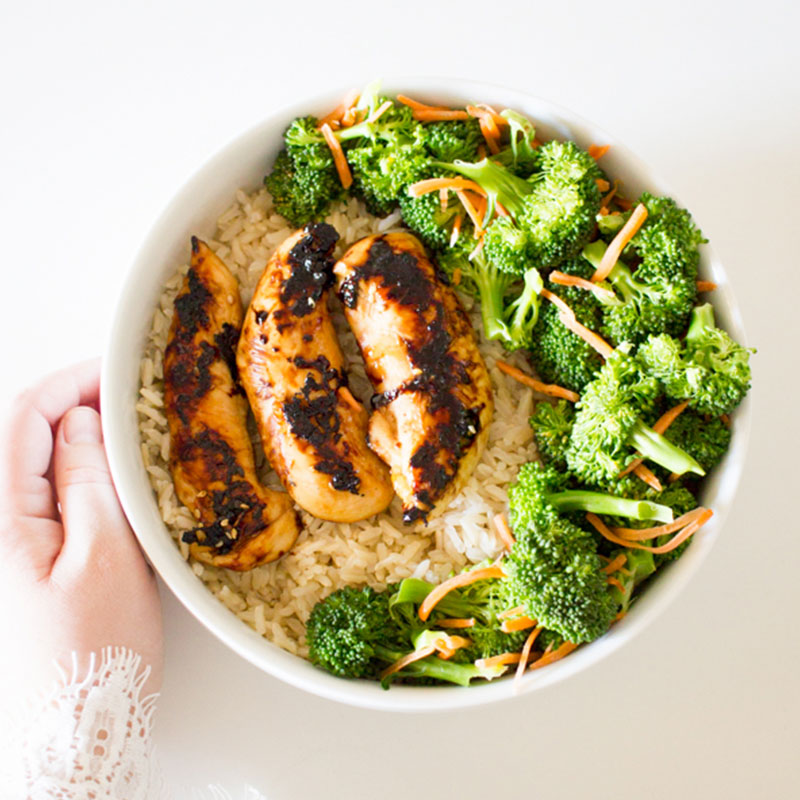 Grilled Chicken and Veggie Rice Bowl
This recipe comes from Our Mini Family in partnership with USA Rice to celebrate American Heart Health Month.
Ingredients
8 ounces chicken breast tenders

¼ cup low-sodium teriyaki sauce

2 tablespoons sesame seeds

1 cup U.S. brown Jasmine rice

3 cups broccoli florets

¼ cup carrots, shredded

Directions
Spray a stovetop pan with non-stick cooking spray. Heat to medium-low heat.

Line the pan with your chicken breast tenders, and once the chicken has begun to cook on one side, pour the teriyaki sauce and the sesame seeds over the chicken while it continues to cook.

Fill a medium-sized pot with 2 cups of water and bring it to a boil. Once the water is boiled, pour the 1 cup of U.S.-Grown Brown Jasmine rice into the pot. Allow it to boil for one minute, and then cover the rice and turn the heat down to low while it continues to cook and soften

While the rice is cooking, rotate the chicken until it is grilled all of the way through and it has browned.

Wash the broccoli with water, and then place the florets into a microwave-safe bowl with 2 tablespoons of water. Cover the bowl with a microwave-safe plate, and place the broccoli into the microwave. Heat on high for 2 minutes to allow the broccoli to steam. Carefully remove the hot bowl and plate from the microwave, and drain any excess water.

Once the rice is cooked, fill a dinner bowl with the rice. Then, add the chicken, broccoli, and sprinkle with shredded carrots. Enjoy!