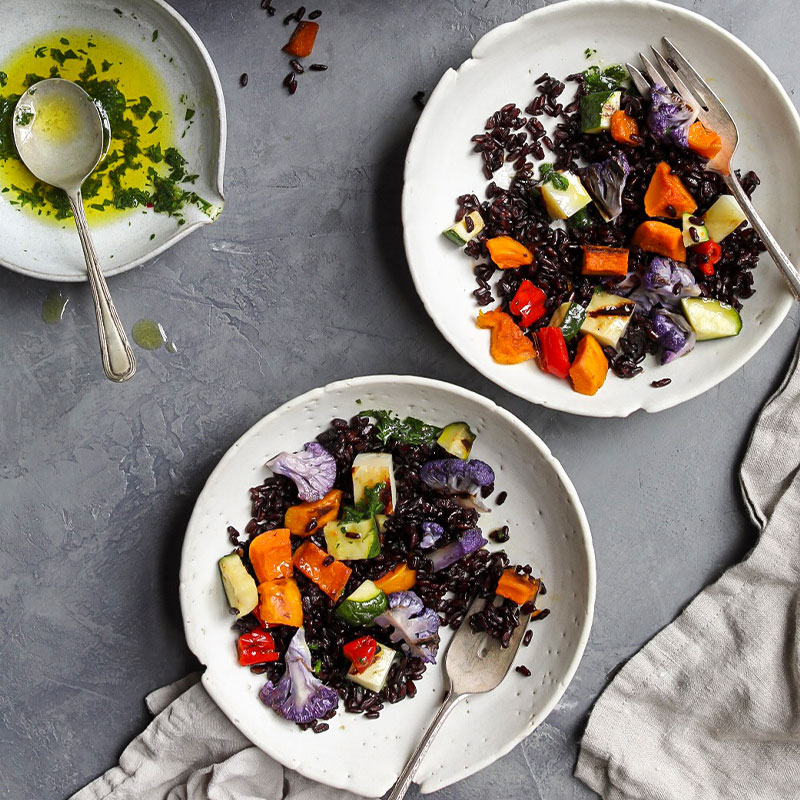 Japonica Rice Salad with Roasted Vegetables
This Japonica Rice Salad with Roasted Vegetables recipe with halloumi and a preserved lemon vinaigrette was created by Jill Fergus in partnership with The FeedFeed.
Servings

4

Prep Time

15 min

Cook Time

40 min

Total Time

44 min
Ingredients
1 cup black japonica rice

1 cup roasted zucchini, seeded (cut lengthwise into four strips, then crosswise in 1"
increments)

1 cup ½" cubed honey nut squash

1 sweet red pepper, seeds removed, sliced

1 cup cauliflower rosettes

4oz halloumi, pan seared until golden on each side

two ¼ cups olive oil

leaf parsley, finely chopped

flaky sea salt

fresh ground pepper
Directions
Preheat Oven to 425 degrees

Prepare rice per package or rice cooker instructions. Add a generous pinch of salt and a teaspoon of olive oil to the cooking water.

Line a rimmed baking sheet with parchment. Separately, toss each vegetable in olive oil and arrange on baking sheet. Season to taste with salt and pepper. Cook in 20 increments, removing each vegetable as it's cooked to your liking.

Whisk remaining ¼ cup of olive oil with 2 teaspoon preserved lemon paste (or 1 tablespoon fresh lemon juice), chopped parsley, flaky sea salt and fresh ground pepper. Adjust acid to suit your taste.

When all ingredients have come to room temp or are still slightly warm, toss together and add Vinaigrette. Serve and enjoy!