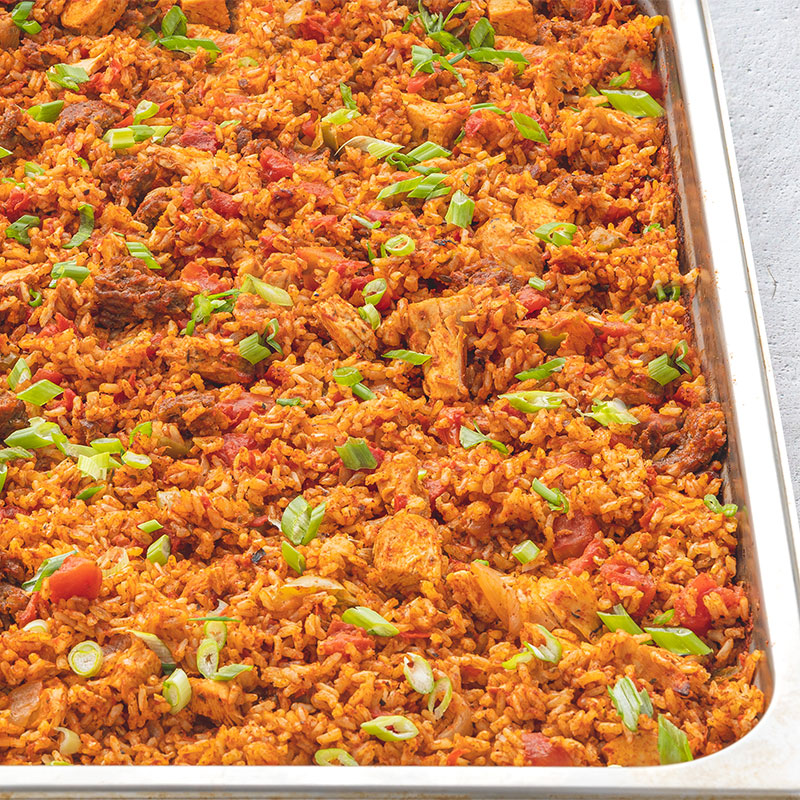 K-12 Jambalaya
Students will love this classic Cajun dish that brings together a flavorful combination of meats (either turkey or chicken, sausage, or seafood), vegetables and rice.

This tasty K-12 school recipe was created for us by our friend Chef Sam Cowens-Gasbarro. Click on the PDF below to download the full recipe with crediting from the USDA Food Buying Guide recipe analysis workbook (RAW).
Servings

50

Serving Size

2 cups
Ingredients
6½ pounds brown long grain parboiled rice, dry

3½ pounds peppers and onions, frozen

1 gallon 1½ cups diced tomatoes with juice, unsalted

2½ quarts (80 oz) tomato sauce, unsalted

5 cups (40 oz) chicken stock

4¾ pounds cooked chicken diced (1½ mma/serving)

1¾ pounds cooked turkey sausage crumble (½ mma/serving)
3 cups green onions, cut diagonally
Cajun Seasoning

6 tablespoons paprika

6 tablespoons onion, granulated

6 tablespoons garlic, granulated

2 teaspoons kosher salt

4 teaspoons chili powder

4 teaspoons thyme, dried

4 teaspoons oregano, dried

4 teaspoons black pepper

1 teaspoon mustard, dry

3 tablespoons celery seed
Directions
Place 3 ¼ pounds of rice into each 4-inch-deep full-sized steamtable pans. Use 2 pans for 50 servings.

Create cajun seasoning by combining all seasonings and toss rice with seasoning mix.

Add peppers and onions, diced tomatoes, tomato sauce, chicken stock, chicken, and cooked sausage.

Cover pans tightly.
Oven Method: Cook in a 350 °F oven for approximately 90 minutes.
CCP: Heat to 165 °F for at least 15 seconds. CCP: Hold for service at 135 °F or higher.

To serve:
• Serve two #4 scoops or dishers (level, and not packed) to serve two cups per serving.
• Garnish with green onions
Recipe Notes
One 2-cup portion provides: 2 oz. eq. whole grain, 2 oz. eq. meat/meat alternate, ½ cup vegetable
Makes 6 gallons, 1 quart
Cajun seasoning mix can be premade in bulk and stored.
Jambalaya can be served using a variety or meats combined to be the equivalent of 2 meat/meat alternates. Try shrimp, turkey, or smoked turkey sausage.
CCP: Cool from 135 °F to 70 °F in 2 hours and from 70 °F to 41°F in 4 more hours.
CCP: Reheat leftovers to 165 °F or higher for 15 seconds, within 2 hours
Recipe source: Samantha Cowens-Gasbarro, Healthy School Recipes
Nutrition Facts
Serving

2 cups

Calories

380kcal

Total Fat

6g

Saturated Fat

21.5g

Cholesterol

35mg

Sodium

270mg

Carbohydrates

62g

Dietary Fiber

6g

Sugar

6g

Protein

21g