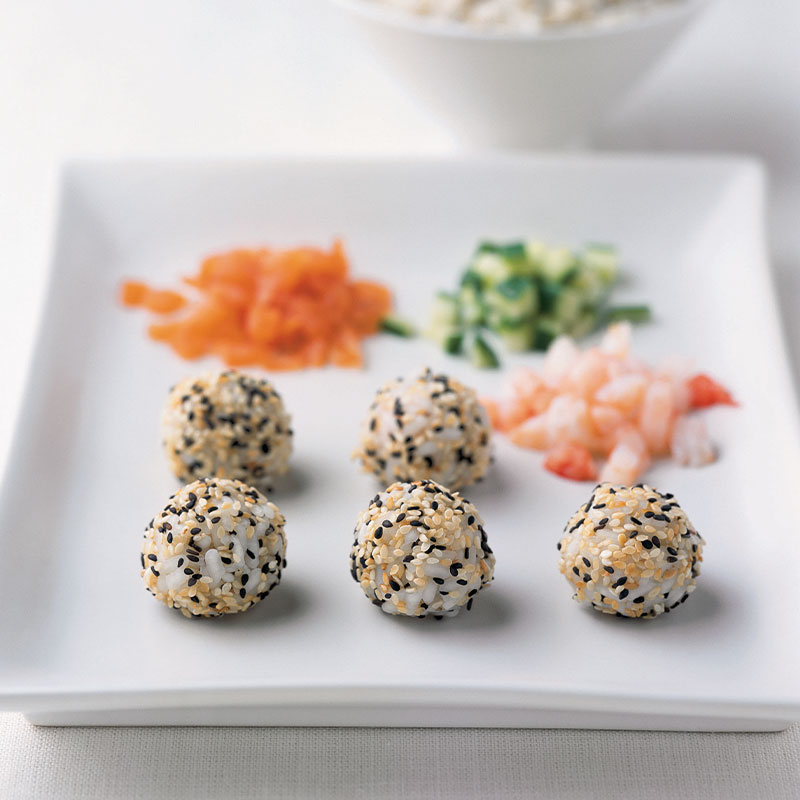 Sushi Poppers
These appetizers are tasty, original and do not require one to master the ancient art of Sushi preparation. Replacing the Sushi mat are two more familiar ancient tools, your hands. These one-bite Sushi Poppers are simple to make and with their unique presentation, fun to serve.
Ingredients
1 cup freshly cooked Calrose rice

3 tablespoons seasoned rice vinegar

2 tablespoons toasted sesame seeds or black sesame seeds (optional)

2 tablespoons each of assorted diced filings:

avocado
cucumber
mango
smoked salmon
wasabi peas
tuna
shrimp
wasabi
Directions
In large shallow dish, spread rice; sprinkle with seasoned rice vinegar and sesame seeds. Using wooden spoon, toss gently to combine [do not stir or rice will clump]. Keep rice covered with a damp cloth if not using immediately.

Using wet fingers, place rounded teaspoon of rice in the palm of your hand. Make an indentation in the center and place desired filling inside. Dip fingers into water and pack rice firmly around filling to make a small ball. Repeat with remaining rice. Sprinkle with toasted sesame seeds or dot of wasabi, if desired.
Cover with plastic wrap and keep at room temperature until ready to serve. Makes 30 pieces.