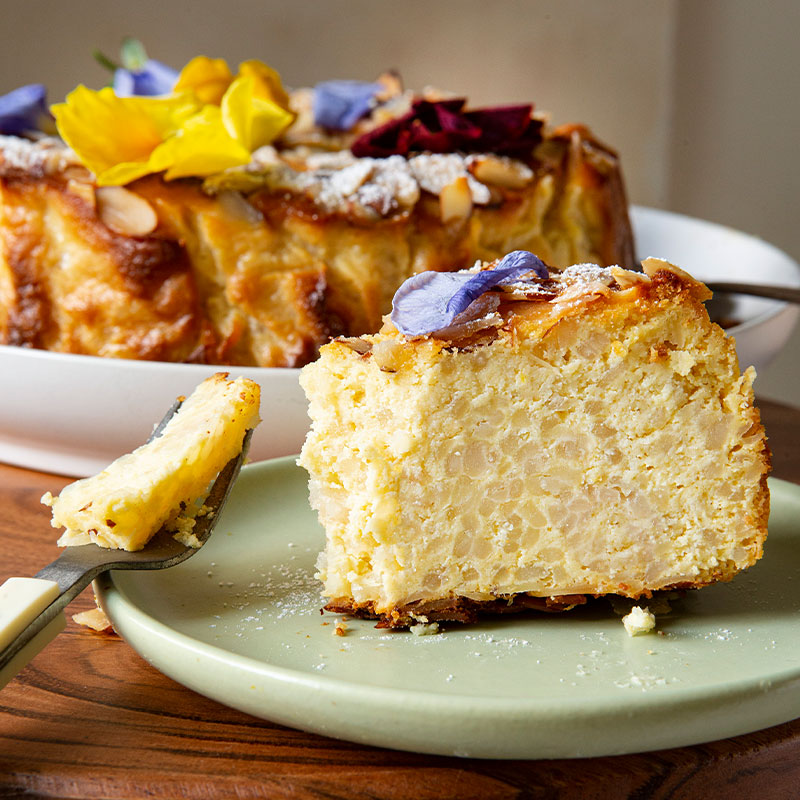 Torta Di Riso (Italian Rice And Ricotta Pie)
Guests will love this old-school Italian recipe for traditional Rice & Ricotta Pie. Torta di Riso or Pastiera di Riso is a creamy dessert pie with a luscious rice pudding base and classic Italian flavors. When you slice into this pie you will see beautifully plump grains of rice, but when you take a bite the grains melt away!

This recipe stars U.S.-grown arborio rice and comes to us from our friend @Lisathompson in partnership with USA Rice and thefeedfeed.
Servings

8-10

Serving Size

1 slice

Prep Time

30 min

Cook Time

1 hr 55 min

Total Time

2 hr 25 min
Ingredients
Rice Pudding

1 cup arborio rice

2 cups whole milk

1 cup water

½ cup granulated sugar

2 strips orange peel, (reserve orange for later)

½ teaspoon ground cinnamon

1 teaspoon vanilla extract

½ teaspoon almond extract
4 tablespoons unsalted butter, diced
For the Pie

15 ounces ricotta cheese

4 large eggs, room temperature

1 cup granulated sugar

1 lemon, zested and juiced

juice from the reserved orange

½ cup milk, room temperature

¾ cup almond meal

¾ cup raw sliced almonds

powdered sugar, for garnish
Directions
Make the Rice Pudding

Bring milk, water, sugar, vanilla extract, almond extract, cinnamon, and orange peel to a light boil over medium heat.

Stir in rice and reduce heat to low. Simmer, stirring often, for 30 minutes. Stir in butter. Remove and discard orange peels. Let rice mixture cool completely or refrigerate overnight before proceeding.
Drain ricotta with a fine mesh strainer lined with cheesecloth for at least 1 hour or overnight in the refrigerator.
Make the Pie

Bring rice mixture and ricotta to room temperature if you refrigerated overnight.

Preheat oven to 350F degrees. Arrange oven rack to the middle of the oven. Line an 8" spring-form pan with a big sheet of parchment, pressing into the pan and leaving an overhang of about 3" on each side. Lightly coat parchment with non-stick cooking spray.

Stir milk, lemon zest, lemon juice, and orange juice into ricotta until smooth. Add in rice mixture and stir until well combined, then stir this mixture into whipped eggs. Fold in almond meal.

Whisk eggs and sugar vigorously for 3 minutes, until light and fluffy.

Line the bottom of the parchment with about ⅔ of the sliced almonds, then pour batter over top. Sprinkle with remaining almonds. Bake for 1 hour 25 minutes, then turn off the oven and let pie cool inside the oven for 1 hour (similar to the method for some cheesecake recipes). Let pie cool completely at room temperature. Remove parchment and transfer to a serving dish.

Dust with powdered sugar, slice, and serve.