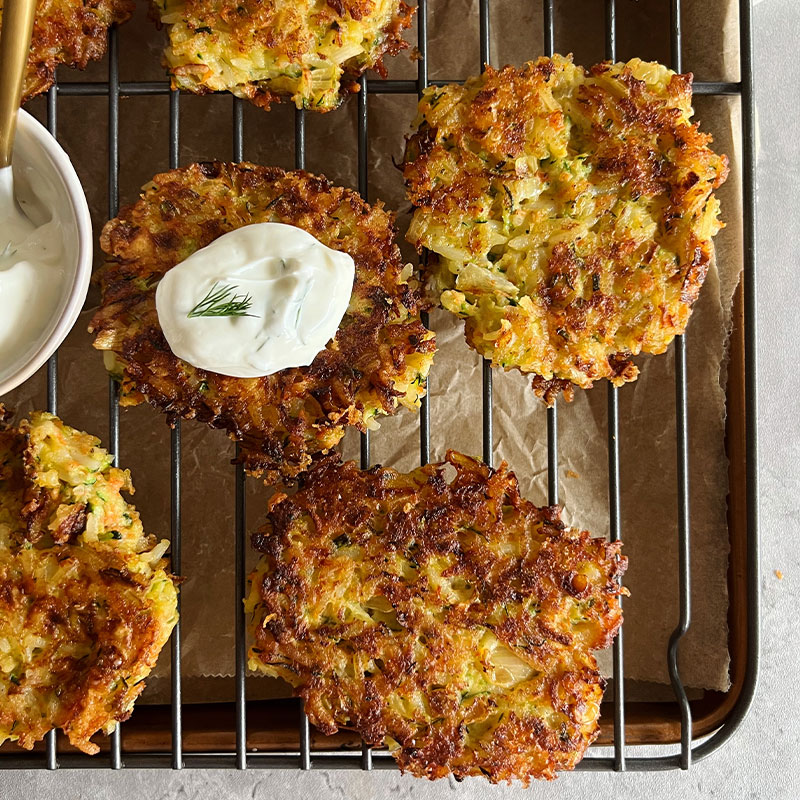 Veggie Rice Fritters
These Veggie Rice Fritters are sure to be a hit with everyone at your table either as a fun main dish or tasty side! This simple and delicious recipe stars U.S.-grown jasmine rice and comes to us from our friend Gal of the Something Nutritious Blog.

PS this vegetarian recipe is perfect for reusing leftover rice and for easy meal prep!
Servings

5

Serving Size

2 fritters

Prep Time

15 min

Cook Time

40 min

Total Time

55 min
Ingredients
1 cup cooked jasmine rice

1 egg

¼ cup all-purpose flour, or sub spelt or oat flour

½ white onion, finely diced

1 cup grated zucchini, about 2 medium

1 cup grated carrots, about 2-3 medium carrots

½ cup shredded cheese

2 tablespoons chopped chives

1 teaspoon garlic powder

½ teaspoon salt

¼ teaspoon black pepper

sour cream, to top

2-3 tablespoons avocado oil, to pan fry
Directions
Add your grated zucchini, carrots and diced onion to a thin dish rag or cheese cloth. Squeeze out as much liquid as possible and add them into a large bowl.

Toss in your rice, cheese, spices, chives and egg and mix well with a rubber spatula or your hands.
Add in your flour and mix until well combined.
Baking Instructions

Let the mixture sit at room temp while you preheat your oven to 375 F.

Once the oven is hot, line a sheet pan with parchment paper. Scoop out about ¼ cup of the mixture onto the sheet pan to form a palm-sized fritter and flatten down slightly. Repeat with remaining mixture.
Lightly drizzle the fritters with cooking oil. Bake for 25 minutes, gently flip each one, then bake for an additional 15 minutes.
Pan-fry Instructions

Let the mixture sit in the bowl while you heat your oil. This will help the fritters stay together.

Heat a large, shallow pan on medium heat, then add in your neutral oil, like avocado or vegetable oil. Add in ¼ cup of the fritter mixture into the pan, flattening it down into a patty. I usually cook about 3-4 at a time depending on the pan size.

Cook the fritter for about 4-5 minutes, then flip and cook for an addition 3-4 minutes. Remove them onto a plate with a paper towel to absorb any excess oil while you prepare the remaining fritters.

Serve fresh with sour cream. Leftovers will stay fresh for up to 5 days.