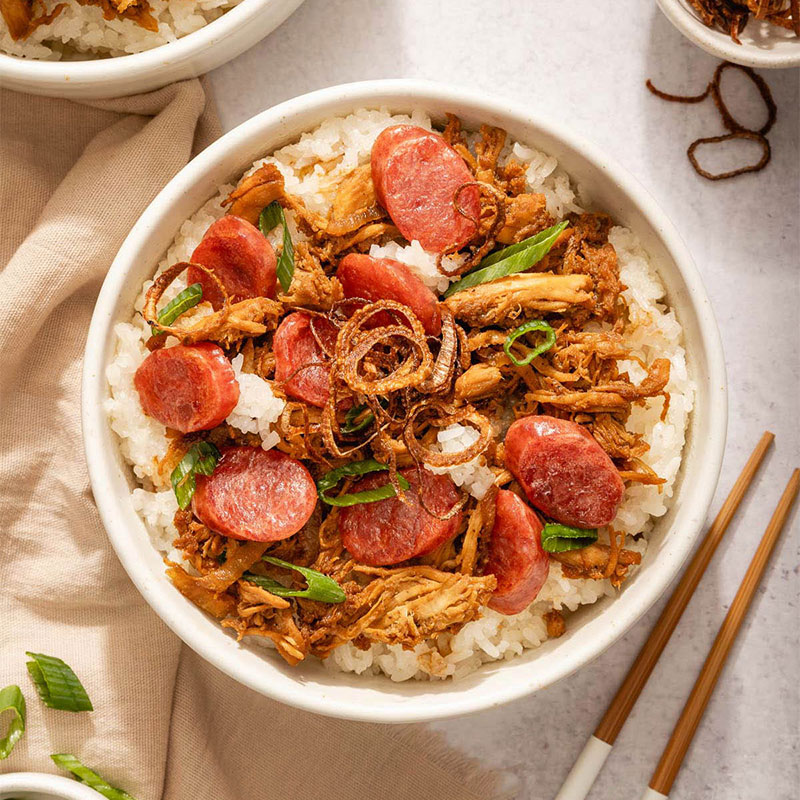 Vietnamese Sticky Rice with Chicken
Our sweet and savory Vietnamese Sticky Rice with Chicken or Xôi gà is a delicious and popular Vietnamese dish that is easy to make with only a few simple steps! This savory comfort dish stars U.S.-grown sticky rice (short grain) and is the perfect quick meal prep solution for a busy week.

This loaded sticky rice recipe comes to us from our friend Megan of @takestwoeggs in partnership with USA Rice and Thefeedfeed.
Servings

4

Serving Size

1 bowl

Prep Time

15 min

Cook Time

30 min

Total Time

45 min
Ingredients
Sticky Rice

3 cups sticky rice
1½ cups water
1 teaspoon salt
Fried Shallots

5 shallots, finely sliced
1 cup vegetable oil
Protein

2 Chinese sausage links, thinly sliced

1/4 yellow onion, sliced

1½ cups (1/2 lb) rotisserie chicken, shredded

1/4 teaspoon pepper

1 teaspoon chicken bouillon powder

3 tablespoons sweet soy sauce
Garnish

2 stalks green onion, for garnish

Soy sauce
Directions
Sticky Rice
Cook the sticky rice. Place the rice in a rice cooker with 1½ cups water and a teaspoon of salt. Mix and cook in the rice cooker.
Fried Shallots

Prepare the shallots. Peel and finely slice the shallots using a knife of mandolin. The shallots should be about 2-3 millimeters thick. On a paper tower lined baking sheet, separate the slices into individual layers and gently blot away excess moisture with a paper towel.
Fry the shallots. Heat the vegetable oil to about 150°F or 65°C over medium low heat. Make sure to use a thermometer to measure the heat of the oil. Add the shallots and gently fry, stirring occasionally to ensure even cooking. Keep a close watch on the shallots. They should turn a rich golden brown in about 5-7 minutes. The cooking time may be longer depending the temperature of the oil and how moist the shallots are. Using a slotted spoon, transfer the fried shallots to a paper towel lined baking sheet. Spread the shallots into a thin layer to cool and crisp.
Protein

Prepare the protein. Shred the rotisserie chicken with a fork and thinly slice the Chinese sausage.

Cook the Chinese sausage. In a medium skillet, add the Chinese sausage onto a thin layer and cook on medium high heat until lightly charred about 3-4 minutes. Set aside.

Cook the Chicken. In a large skillet, heat 1-2 tablespoons of vegetable oil on medium high and sauté the sliced onion until translucent and lightly browned about 4 minutes. When the onions are caramelized, toss in the chicken, black pepper, chicken bouillon powder and sweet soy sauce on medium high and toss together until combined. Cook on medium heat for about 5 minutes.
Serve
Serve the sticky rice with the chicken, sausage and fried shallots. Top with sliced green onions and a drizzle of soy sauce. Enjoy!
Recipe Notes
You can store this Vietnamese sticky rice with chicken in an airtight container in the refrigerator for up to 4-5 days. To re-heat, simply drop a few drops of water over the sticky rice, cover it with a wet paper towel, and microwave until warm.
Nutrition Facts
Serving

1 bowl

Calories

1357kcal

Total Fat

71g

Saturated Fat

13g

Trans Fat

1g

Cholesterol

93mg

Sodium

1518mg

Carbohydrates

136g

Dietary Fiber

4g

Sugar

13g

Protein

39g