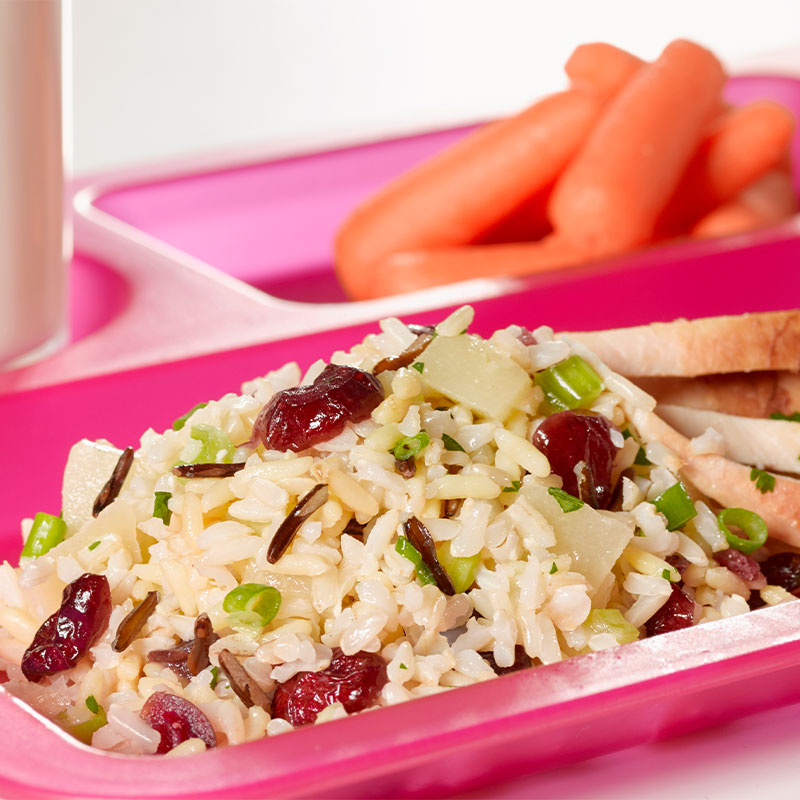 Wild & Brown Rice Salad
Click on the PDF below for complete nutritional information and recipe information for 50 & 100 servings.
Servings

50

Serving Size

¾ cup
Ingredients
2 pounds (1½ quarts ¾ cup ) cranberries, dried

⅕ quarts ¼ cup pears, canned, in juice, chopped, drained, reserve liquid

7 pounds 5 ounces (1 gallon 1 cup) brown rice, cooked

2 pounds 14 ounces (2 quarts) wild rice, cooked

1 pound 12 ounces celery, diced

4 ounces (2 cups) scallions, chopped

2 ounces (2 cups) parsley, fresh, minced
3½ cups cider vinegar dressing
Cider Vinegar Dressing Recipe

1 cup apple cider vinegar

1 cup reserved canned pear liquid

¼ cup dijon mustard

1 tablespoon salt

2 teaspoons black pepper, ground

1 ⅓ cups vegetable oil

1 ounce (1 cup) parsley, fresh, minced
Directions
Soak cranberries in pear juice for 20 minutes. Drain and reserve 1 cup juice for Cider Vinegar Dressing

To prepare Cider Vinegar Dressing: In a mixing bowl or food processor, whisk together vinegar, pear juice, mustard, salt and pepper. Slowly whisk in oil, a little at a time, until thickened. Stir in parsley. Cover and hold. *Critical Control Point: Refrigerate below 41°F for at least 2 hours before using as directed.

In a bowl, toss drained chopped pears, brown and wild rice, celery, scallions, parsley and soaked cranberries. Add Cider Vinegar Dressing*; toss well. Refrigerate at least 2 hours to develop flavors before service. *Critical Control Point: If using fresh-cooked rice, cool from 135ºF to 70ºF within 2 hours and from 70ºF to 41ºF within 4 more hours. Hold cold below 41°F for service.

To Serve: For each serving, scoop ¾ cup of chilled rice salad onto a plate.
Nutrition Facts
Serving

¾ cup

Calories

242

Total Fat

7g

Saturated Fat

1g

Sodium

190mg

Carbohydrates

44g

Dietary Fiber

5g

Protein

3g