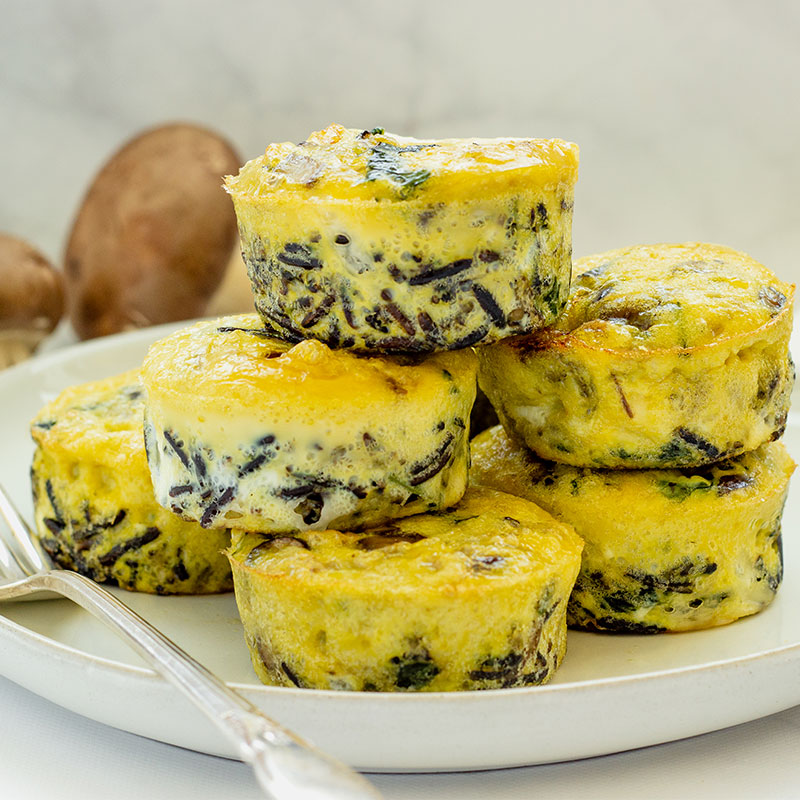 Wild Rice Egg Muffin Cups
These egg muffin cups are like mini frittatas full of yummy Gruyere cheese, spinach, mushrooms, and California-grown wild rice!

This easy, prep ahead breakfast recipe comes to use from our friend Anne of @cravingsomethinghealthy.
Servings

6

Serving Size

2 muffins

Prep Time

10 min

Cook Time

25 min

Total Time

35 min
Ingredients
1 tablespoon olive oil

1 cup baby Bella mushrooms, diced

1/2 cup minced onion

2 cloves garlic, minced

1½ cups baby spinach, chopped

1/2 teaspoon salt more or less to taste

10 large eggs

2 tablespoons milk regular or milk substitute

1 cup cooked California-grown wild rice

1 cup shredded Gruyere cheese or Swiss cheese
Directions
Heat the over to 350ºF and set the rack in the middle position. Spray your muffin pan with cooking spray or line each well with a parchment muffin liner.

Heat the oil in a large saute pan over medium-high heat. Add the mushrooms, onion, garlic, and spinach. Saute for 3-5 minutes or until the vegetables are caramelized, and all of their liquid has evaporated.

Remove the vegetables from the heat and let them cool for at least 5 minutes.

In a mixing bowl, whisk the eggs and milk. Add the rice and cheese, and then the vegetables. Whisk everything well.

Using a ladle, fill each well of the muffin pan, leaving at least 1/2 inch of headspace so the muffins can expand.

Bake the egg muffin cups for 20-25 minutes or until they are set.

Let the muffin cups cool for about 10 minutes before removing them from the pan.
Recipe Notes
Serve warm, at room temperature, or cold.

Freezer-friendly! Store leftover egg muffin cups in an airtight container in the refrigerator for 2 days or in the freezer for up to 3 weeks.
Nutrition Facts
Serving

2 muffins

Calories

272kcal

Total Fat

18g

Saturated Fat

7g

Trans Fat

.03g

Cholesterol

334mg

Sodium

479mg

Carbohydrates

9g

Dietary Fiber

1g

Sugar

2g

Protein

19g