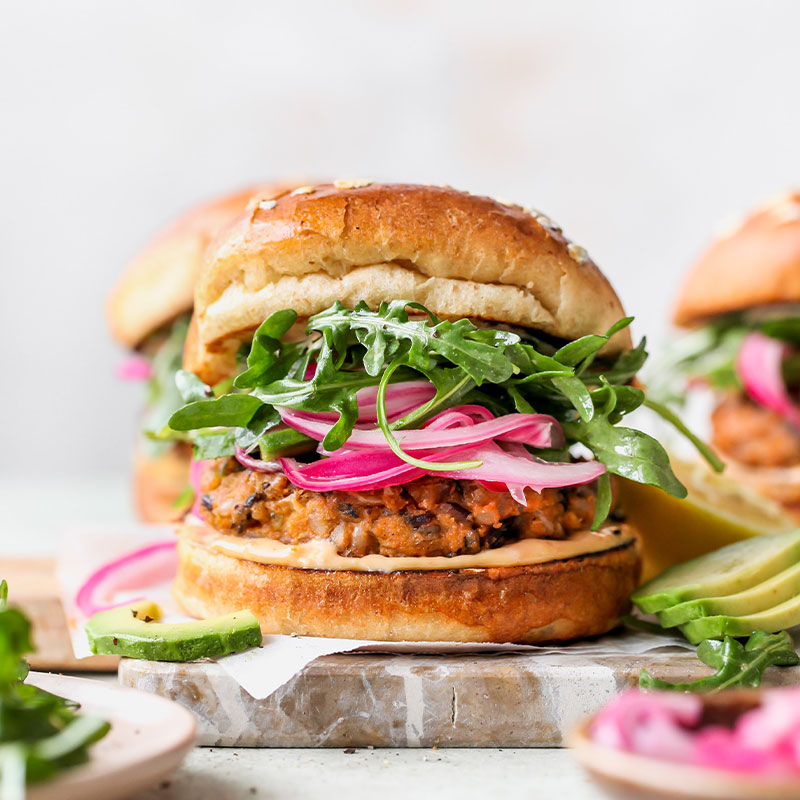 Wild Rice Burgers with Tahini Special Sauce
Meet the ultimate Wild Rice Burger! With pickled red onion, avocado, and Tahini Special Sauce, these wild rice burgers are fiber-filled, freezer-friendly, and will be a hit with everyone at the table.

These homemade veggie burgers are made with California-grown Wild Rice and the recipe comes to us from our friend Jamie Vespa MS, RD of @dishingouthealth.
Servings

6

Serving Size

1 burger with sauce

Prep Time

30 min

Cook Time

1 hr

Total Time

1 hr 30 min
Ingredients
¾ cup dry U.S.-grown wild rice blend

1 cup canned cannelloni beans, rinsed and drained

2 large eggs

½ cup breadcrumbs (sub oat flour if making gluten free)

¼ cup tahini (ex. Soom brand)

1 tablespoon. tomato paste

2 teaspoons. Worcestershire sauce

1 teaspoon. ground cumin

1 teaspoon. smoked paprika

1 teaspoon black pepper

¾ teaspoon kosher salt

¾ teaspoon dried oregano

3 tablespoon cooking oil of choice

6 regular burger buns or 8 slider buns

Optional toppings: sliced avocado, pickled red onion, arugula or lettuce of choice

Tahini Special Sauce

3 tablespoons tahini

2 tablespoons Thai sweet chili sauce

2 teaspoons lemon juice

1 grated garlic clove

2 tablespoons warm water
Directions
Combine wild rice blend and 1½ cups water or broth in a small saucepan; bring mixture to a boil. Cover with a tight-fitting lid and reduce heat to maintain a low simmer; cook for 45 minutes. Transfer cooked rice to a bowl, and let cool completely (Note: this can done up to 2 days ahead to save time).

In a large bowl, use a potato masher or fork to thoroughly mash cannelloni beans. Add cooked and cooled rice, eggs, breadcrumbs, tahini, tomato paste, Worcestershire sauce, cumin, smoked paprika, black pepper, salt, and oregano. Thoroughly mix until well-combined. Transfer bowl to the refrigerator and chill for a minimum of 30 minutes, or up to 24 hours (overnight).

For slider-size burgers, use a 1/3 cup measure to divide and form 8 uniform patties. For regular burgers, use a 1/2 cup measure to divide and form 8 uniform patties. Place patties on a parchment-lined baking sheet (Note: If burgers aren't holding together well, chill for another 20 to 30 minutes).

Heat 2 tablespoons oil in a large skillet over medium heat. Once the oil is shimmering, add half of the burger patties. Cook for 5 to 6 minutes, or until golden brown. Gently flip, and cook for another 5 minutes. Add remaining 1 Tbsp. oil and repeat with remaining patties.

Prepare Tahini Special Sauce by combining tahini, Thai sweet chili sauce, lemon juice, and garlic in a small bowl; stir to combine. Gradually stream in 2 tablespoons of warm water, whisking constantly, until smooth and creamy.

Spread Tahini Special Sauce on both the top and bottom of the bun. Add 1 wild rice patty to the bottom bun, and top with pickled red onion, avocado, and arugula, if desired. Cover with top bun and enjoy!
Nutrition Facts
Calories

345

Total Fat

16g

Saturated Fat

3g

Sodium

700mg

Carbohydrates

37g

Fiber

6g

Sugar

3.5g

Protein

14g