February 12, 2021
All About That Brown Rice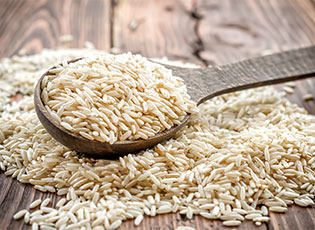 Whole Grains Explained
Every grain starts life as a whole grain. Once the rough rice, which is rice in the inedible husk straight from the field, is collected, the grains are milled to remove the husk and create whole grain or brown rice. The whole grain is the entire seed of a plant, including the bran, germ, and endosperm. The bran is rich in antioxidants, B vitamins, and fiber; the germ, which is the "embryo" of the grain, contains protein and healthy fats. Together as the whole grain, these components provide protein, fiber, and many important vitamins, minerals, and nutrients.
Research shows that eating whole grains may reduce the risk of coronary heart disease, type 2 diabetes, certain cancers, and may aid in weight maintenance. Like fruits and vegetables, whole grains have been identified as a dietary component contributing to better health outcomes, particularly playing a role in reducing the risk of coronary heart disease and colorectal cancer.
Step up your whole grain intake with U.S.-grown rice—a wholesome, nutritious, and sustainable food.
The Dietary Guidelines recommend that half your consumed grains should be whole grains, one cup of brown, wild, red, or black rice provides two of the three recommended daily servings of whole grains. Here are some tips to up your whole grains and get that whole grain goodness!
Make your rice colorful. Brown, wild, black, red and purple rice are 100% whole grain varieties.
Try mixing brown and white rice together in your favorite dish for more complex flavor and texture. It's also a great way to encourage kids to eat more whole grains.
Cook a double batch of brown rice and keep it on hand for a quick start to your next meal. Cooked rice can be stored in the refrigerator in a tightly covered container for 3 to 5 days or frozen for up to 6 months.
What U.S. rice varieties are available in whole grain?
Every variety! While some whole grain versions may be harder to find, like brown short grain rice, every U.S.-grown rice variety is available as a whole grain and milled (white rice) version.

How to cook brown or whole grain rice?
For the most part the cooking techniques remain the same between white and whole grain rice. Key differences revolve around cooking time and water ratio. Cooking times for whole grain rice usually double in comparison to white rice as does the preferred amount of water to cook with. For best cooking results, always follow package directions. When directions aren't available, see our rice cooking methods page for guidance.
How to store whole grain rice?
Uncooked: Because of the oil in the bran layer, this rice has a shelf life of approximately six months. Refrigerator or freezer storage is recommended for longer shelf life.
Cooked: Cooked rice may be stored in the refrigerator for three to five days or frozen up to six months. The USDA recommends cooling to 70°F within two hours and from 70°F to 40°F within an additional four hours. Hold cold rice at 41°F or below.


To learn more about whole grain nutrition, view our
Rice, A-Whole-Nother Grain
one-pager.
---
Brown Rice Recipes
Browse our collection of
brown rice recipes here
, or check out a few of our favorite brown rice recipes below.