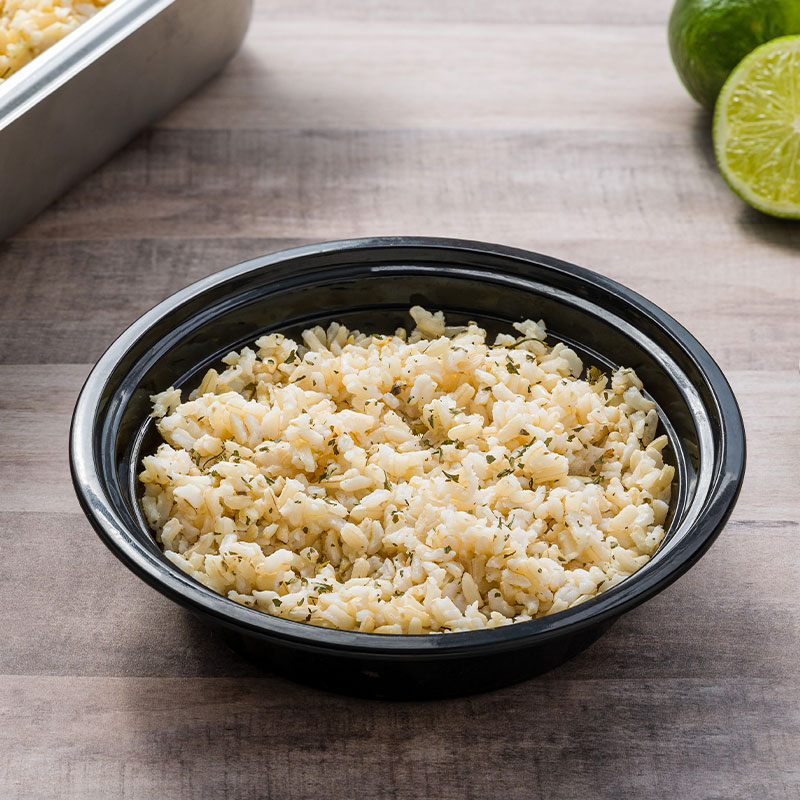 Cilantro-Lime Brown Rice
This on-trend rice recipe is the perfect base for bowls, burritos or as a flavorful side dish. This U.S.-grown brown long grain rice is fluffy, aromatic and ready to compliment both Mexican and Asian inspired meals.

This tasty K-12 school recipe was created for us by our friend Chef Sam Cowens-Gasbarro. Click on the PDF below to download the full recipe with crediting from the USDA Food Buying Guide recipe analysis workbook (RAW).
Servings

50

Serving Size

1 cup
Ingredients
6 ¼ pounds brown long grain rice, dry

5 ½ quarts water

½ cup vegetable oil

4 teaspoons kosher salt

3 cups lime juice

4 tablespoons cilantro, dried
Directions
Combine rice, water, oil, salt, lime juice, and cilantro into a 2-inch steamtable pan. Stir to combine. Cover tightly. For 50 servings use 2 pans.

Oven Method: Cook in a 350 °F oven for 45 to 55 minutes.

Steamer Method: Cook in a steamer for 30 to 40 minutes.

CCP: Heat to 135 °F for at least 15 seconds.

Remove from oven or steam and let sit for 10 to 15 minutes.

Remove cover; fluff rice before serving.
CCP: Hold warm, above 135 °F for service.
Recipe Notes
This recipe makes 50-1 cup portions of cilantro lime brown rice or 100-½ cup portions of rice.

½ cup (No. 8 scoop) provides 1 oz. eq. grain.

This recipe yields 12 ½ quarts of rice.

ONE CUP PORTION PROVIDES: 2 oz. eq. whole grains

Source: Samantha Cowens-Gasbarro, Healthy School Recipes
Nutrition Facts
Serving

1 cup

Calories

260

Total Fat

4g

Saturated Fat

.5g

Cholesterol

0mg

Sodium

160mg

Carbohydrates

50g

Dietary Fiber

3g

Protein

5g