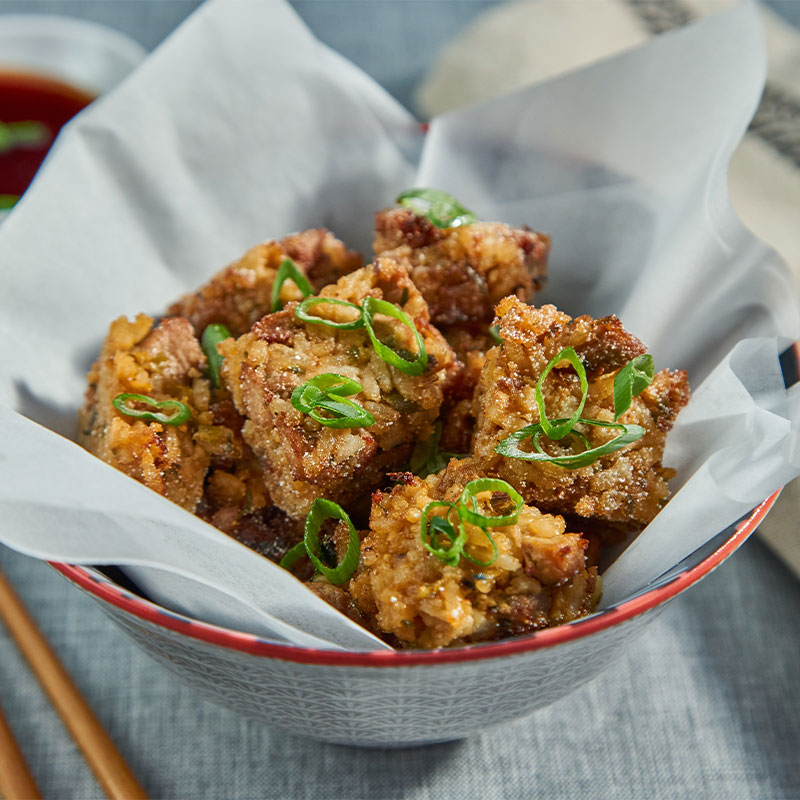 Ingredients
¼ cup sesame oil

¼ cup vegetable oil

½ cup scallion, minced

¼ cup ginger, minced

2 tablespoons garlic, minced

1½ cups char siu pork, small dice, subrecipe

2 each egg, whisked

2 quarts long grain rice, cooked

½ cup soy sauce, low sodium

as needed rice flour

1 cup sweet soy dipping sauce, subrecipe

1 cup scallions, sliced
Char siu pork

1 cup soy sauce

2 tablespoons honey

¼ cup ketchup

2 tablespoons brown sugar

3 tablespoons rice wine vinegar

½ cup hoisin sauce

¼ teaspoon red food coloring

½ teaspoon Chinese five spice
2 each pork tenderloin, cleaned, split lengthwise
Sweet soy dipping sauce

1 cup soy sauce, low sodium

¾ cup granulated sugar

¼ cup rice wine vinegar

3 tablespoons scallion, minced

1 tablespoon ginger, minced

1 teaspoon garlic, minced

¼ cup cilantro, minced

1 tablespoon sesame oil
Directions
In a wok or large sauté pan over high heat, heat sesame and vegetable until they begin to smoke.


Add scallion, ginger, and garlic. Sauté until they become fragrant.


Add Char Siu Pork ribs and continue to sauté over high heat until the meat begins to get crispy.


Move mixture to one side of the pan, add the whisked egg to the empty part of the pan and scramble until egg is fully cooked before incorporating it into the rest of the mixture.


Fold in rice and soy sauce.


Lay 1" of warm rice into a sheet tray lined with plastic.


Cover rice with plastic wrap and place another equally sized sheet tray with around 2-3 lbs of added weight on top of it. Let press for 2-3 hours or until rice completely cools.


Remove rice from refrigerator and uncover. Cut rice into 1"x1" cubes and toss in rice flour to coat.


Fry in 350˚ oil until light golden brown.


Serve tots with Sweet Soy Dipping Sauce. Garnish with sliced scallions.
Char Siu Pork

Whisk Soy Sauce, honey, ketchup, brown sugar, rice wine vinegar, hoisin sauce, food coloring, and five spice together until combined.


Marinate cleaned tenderloin in soy mixture overnight.


Grill marinated tenderloins over high heat.


Remove from heat and let rest until they're cool.


Cut cooked pork into a small dice and reserve in the refrigerator until ready for use.

Sweet Soy Dipping Sauce

Whisk all ingredients together until the sugar has completely dissolved.