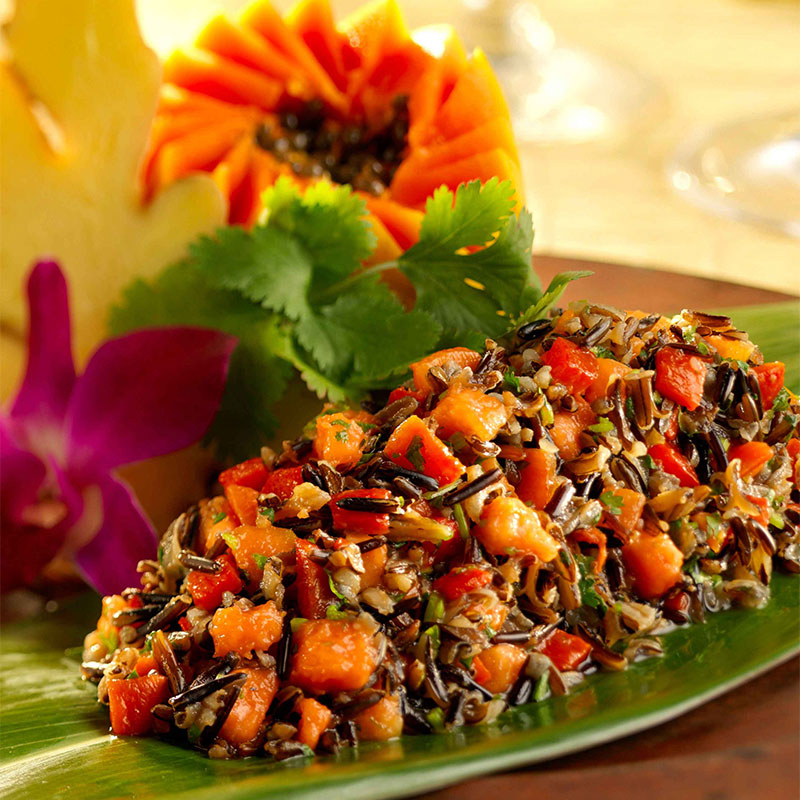 Gingered California Wild Rice and Papaya Salad
Recipe courtesy of the California Wild Rice Advisory Board. Created by Executive Chef Collin Moody Asilomar Conference Grounds Pacific Grove, California. Great as a spring or summer salad, or use as a side dish to duck, pork, or chicken.
Ingredients
4 cups cooked California wild rice, cooled

1 cup ripe Hawaiian or Mexican papaya, cut into ½' cubes

⅓ cup red pepper, diced

1 tablespoon fresh cilantro, chopped

½ cup red onion, diced

1 tablespoon lime juice

1 tablespoon honey

1 tablespoon fresh ginger, minced

1 large clove garlic, minced

⅛- ¼ teaspoon chili flakes

salt and pepper, to taste

⅓ cup shelled pumpkin seeds, lightly toasted (optional)
Directions
Combine rice, papaya, red pepper, cilantro and onion in serving bowl.

In a small bowl, whisk together lime juice, honey, ginger, garlic, chili flakes, salt and pepper. Pour over salad and gently stir to combine well.

Let rest in refrigerator for 1 hour to overnight. Just before serving, fold in the toasted Pumpkin seeds.
Nutrition Facts
Calories

147

Total Fat

1g

Sodium

6mg

Carbohydrates

33g

Dietary Fiber

3g

Protein

6g