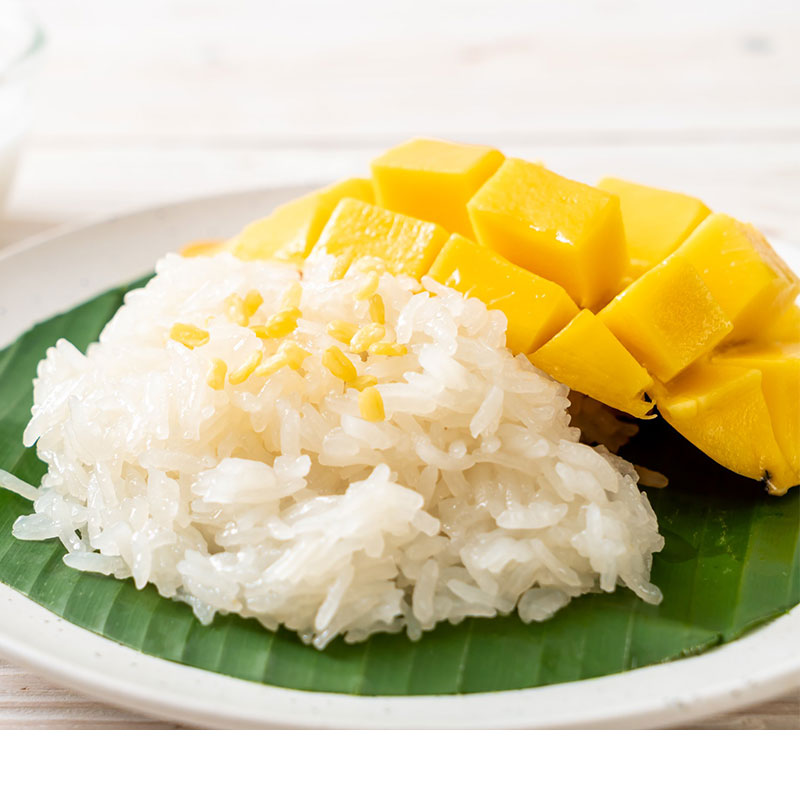 Mango Sticky Rice
This traditional Thai dish is a sweet, sticky, salty, gluten-free, vegan dessert that is brings out the flavor of fresh mangos and is perfect for in warmer months.

The dessert recipe stars U.S.-grown sticky or glutinous rice.
Ingredients
Sweet Sticky Rice

1 cup glutinous sweet rice

1 cup (250g) full-fat coconut milk

⅓ cup (75g) granulated sugar

¼ teaspoon (2g) salt
2 pandan leaves or ½ teaspoon pandan extract optional
Salted Coconut Drizzle

⅔ cup (150 g) coconut milk

¼ teaspoon (2g) salt

1 teaspoon (3g) cornstarch
1 teaspoon (5g) water
Toppings

2 ripe mangos peeled and sliced

sesame seeds toasted (optional)

split Mung Beans toasted (optional)
Directions
Steam the rice. Using a steamer, bring the lower pot of water to a hard boil. Drain the rice and lay the sticky rice on a lined steamer. (You can line the steamer with parchment paper, cheesecloth, or banana leaf). Cover with the lid and steam on medium-high heat for 25-35 minutes until the rice is soft and translucent.

Make the sweet coconut sauce for the rice. While the rice is cooking, place the coconut milk, salt, sugar, pandan leaves in a small saucepan. Mix together until the sugar dissolves and bring to a simmer/gentle boil for 3 minutes until it slightly thickens. Set aside.

Make the salted coconut drizzle. Mix together the cornstarch and water in a small bowl. In a saucepan, add ¾ cup of coconut milk and ¼ teaspoon of salt on medium heat until the mixture comes to a gentle boil. Slowly pour the cornstarch slurry into the saucepan and mix until the sauce thickens. Set aside.

Mix rice and coconut sauce. Once the rice is cooked, place the rice in a heat-proof bowl and pour the sweet coconut sauce onto the rice, and mix. Stir and break up any lumps and then cover with foil and let the coconut sauce steep for 20 minutes.

Prepare the mangos. Peel the mangos and slice the cheeks from the seed. Then slice the cheeks vertically in thin slices.

Toast the sesame seeds (optional). Place the sesame seeds on a small skillet and continuously stir for 1-2 minutes on medium heat until lightly browned. Set aside.
Toast the mung beans (optional). Place the mung beans in 2 cups of water and bring to a boil. Once it hits a boil, turn off the heat and cover the saucepan with a lid and let the mung beans sit for 10 minutes. Then drain and dry the mung beans. Toast the mung beans in a small skillet with a tablespoon of vegetable oil on low heat, stirring regularly until golden brown and crispy for about 2 minutes. You will know they are done if you smell their nutty aroma. Be careful not to burn them! Set aside.

Serve. Serve the mango and sticky rice. Garnish with toasted sesame seeds and the salted coconut drizzle.