June 20, 2018
Flavor-Packed Sides Take Inspiration from Across the World
Volume 2, Issue 2 | June 2018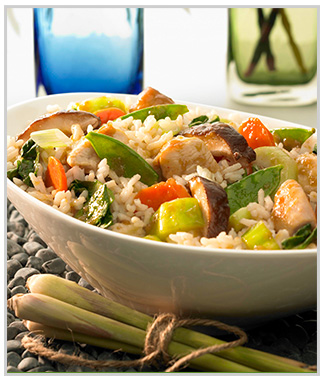 Use a global staple to introduce exciting new flavors to a dining hall menu.
Arroz. Riso. Gohan. However you say it, rice is a staple all over the world. Why? It's inexpensive, packed with nutrients, and keeps you full. It's also a starch chameleon, picking up any combination of spices, herbs, and seasonings you throw into the mix.
Use this versatility to your advantage in the C&U arena! Today's college students expect variety and are likely to try new flavors. U.S.-grown rice is the perfect canvas to showcase delicious international side dishes.

C&U operators can easily spice up a dining hall menu by taking cues from the flavors of Thailand, Greece, India, Mexico, and other regions across the world. Incorporating international flavors into sides offers a cost-effective way to see which ethnic cuisines your diners gravitate toward, so you can serve up more in the future.
---
Make It Work
Build a daily menu or pop-up stand around a specific type of cuisine, serving complementary mains, drinks, and desserts.
Position veggie-packed global sides as a filling, non-boring alternative to a side salad.
Make these dishes available as a side or full portion.
Recipe Inspiration & Ideas
These globally inspired sides take you way beyond your basic peas-and-carrots rice pilaf, and they all start with U.S.-grown rice. Plus, you can easily customize many of these dishes to accommodate special diets. Want more?
Search our recipes
by cuisine type for additional global inspiration.