November 19, 2021
Home for the Holidays with U.S.-Grown Rice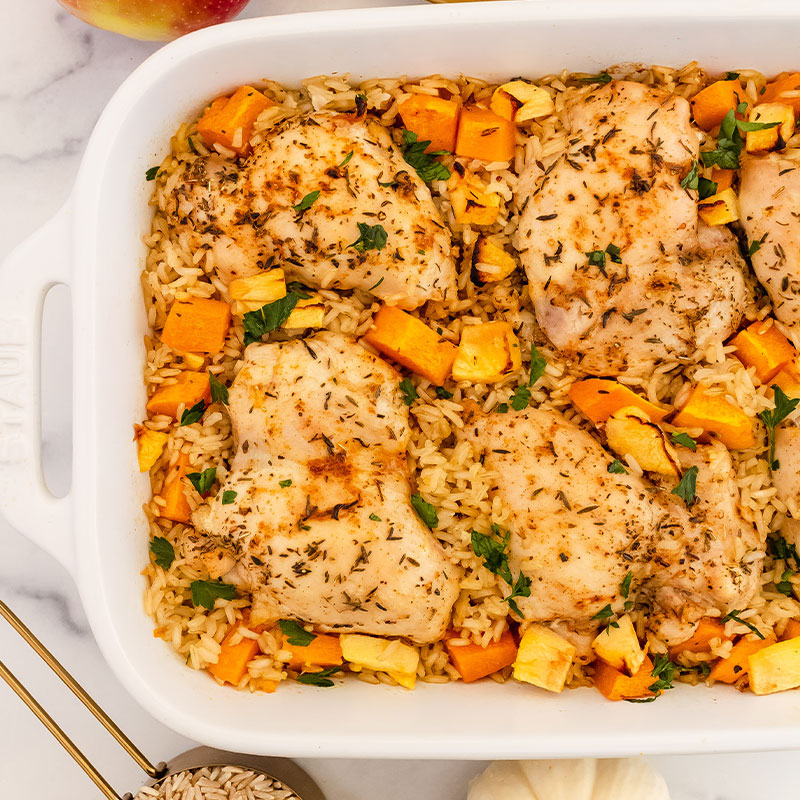 The holiday season is right around the corner and U.S.-grown rice is here to help you celebrate! While supply chain issues may be impacting some staple purchases, you can rest assured domestic rice is stocked on shelves across the country and ready to be enjoyed. Let U.S.-grown rice take some of the chaos out of your holiday meal planning, with varieties for any application that are all gluten-free, affordable prices, and organic options. Get ready to rice up your holiday menu!
From cozy and comfort recipes to eye-catching dishes, our favorite grain does it all! Allow rice's versatility to help adapt your holiday favorites or start a new culinary tradition with friends and family. Whatever you decide, USA Rice is here to help you celebrate the holidays the rice way!
Below is a roundup of some of our favorite seasonal and festive recipes to put rice on the menu for your holiday season.
Fall Chicken & Rice Bake
This healthy fall combination makes for a delicious and simple meal that's perfect entertaining. The seasonally inspired dish stars U.S.-grown brown long grain rice and serves five.
Rice Pudding with Bourbon-Glazed Apples
Creamy, warm, and wonderful, this sweet dish has it all, bringing together the traditional flavors of autumn and featuring U.S.-grown jasmine rice. You will love the texture of this tasty treat!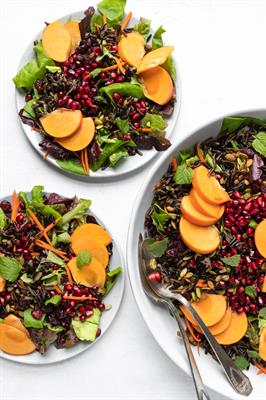 Holiday Wild Rice Salad
This flavorful wild rice salad is the perfect complement to any holiday meal. Starring California-grown wild rice, this eye-catching salad is packed with pomegranate, fresh greens, and a zingy lemon vinaigrette that everyone can enjoy.

Brown Rice Stuffing
Make room on your plate for Brown Rice Stuffing, a holiday staple packed with the comforting flavors you and your family love. A bonus with this dish is it's both vegan and gluten-free!
Pumpkin Risotto with Bacon, Gouda, and Sage
Looking for an elegant holiday meal that doesn't require too much work? Pumpkin Risotto with Bacon, Gouda, and Sage recipe is the answer. This festive dish comes together in about 30 minutes, features U.S.-grown medium grain rice, and is gluten-free!
Rice Pudding Pear Tart
Cap your holiday celebrations off with savory Rice Pudding Pear Tart! Reimagine traditional rice pudding and impress your guests with this eye-catching and mouth-watering rice recipe.
Looking for more rice recipes? Browse through our
recipe database
to find the U.S.-grown rice dishes that works best for you and yours this holiday season.
Featured Recipes